Airbnb Hosting
17 Ways To Crush It as an Airbnb Host

Are you a brand new Airbnb host? Or maybe you have experience and are looking to become an Airbnb Superhost? If so, you've come to the right place for Airbnb host tips.
We've researched and collected advice from top-ranked Airbnb hosts. Here are their top tips when it comes to crushing it as an Airbnb host.
Be flexible on check-in and check-out times. Let's face it— traveling rarely goes smoothly. Letting people check in and out at a time that works for them (and within reason, of course) buys a lot of goodwill.

Greet your guests. While this isn't always possible, being there to unlock the door, help with luggage, and offer a tour goes a long way.

Leave a welcome note. Include information like the Wi-Fi password (you do offer free WiFi, right?); how to get in touch with you; addresses of nearby pharmacies, grocery stores, and stores; instructions on how to use any complicated appliances; and a list of fun things to do in the area.

Provide a welcome snack. It doesn't have to be fancy or homemade— a few store-bought cookies or fresh fruit can do the trick.

Give them the 411 on ordering food. Leave takeout menus and a note about the restaurants you love. Don't forget to share favorite dishes and any coupons you might have!

Keep it local. Decorate with art from local photographers, keep local honey in stock, stash local soaps around the house–there are so many ways to personalize the experience.

Invest in good lighting. Vacations are for relaxing, and harsh lighting can make that hard to do. So consider putting dimmers on switches and positioning floor and table lamps around the space.

Make games, books, and magazines available. Guests appreciate having fun ways to pass the time.

Stock up on pantry basics. If your space comes with a kitchen, guests will appreciate having pantry essentials like sugar, salt, pepper, cooking spray, and coffee filters on hand.
Invest in umbrellas. They're a pain to pack— and an even bigger pain to forget.
Have emergency supplies on hand. Hopefully your guests will never have to use a flashlight or first aid kit— but have them there just in case they do.
Check in on your guests. A quick call or text shows that you care and can help avert any issues later on.
Have lots of everything. Your guests will appreciate never running out of towels, blankets, toilet paper, paper towels, light bulbs, and tissues during their stay.
Keep it super clean. No list of Airbnb host tips is complete without mentioning cleanliness. A few stray hairs in the bathroom is all it takes to sink your rating.
Be on call, all the time. You should keep your phone on you at all times, even (sorry!) while you're sleeping. Emergencies can happen at any time and your guests need to be able to reach you when they do.
Have go-to contractors. When a circuit shorts or a pipe bursts, you'll want things fixed ASAP. That's why it's worth having a list of trusted contractors you can call on.
Create a great sleep experience. Nothing ruins a trip like poor sleep. Help your guests sleep soundly by investing in a comfy mattress, quality pillows, and soft sheets. You can also consider SleepPhones®, the world's most comfortable headphones for sleeping. They're perfect for blocking out ambient noise and snoring partners!
Follow these Airbnb host tips and you may just be the next Airbnb Superhost! To partner with us, check out our Airbnb Host Referral Program.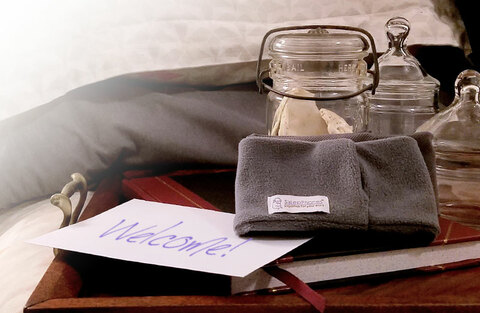 Here's Something Your Airbnb Guests Are Sure to Love...
SleepPhones® Affiliate Program for Airbnb Hosts
Here's Something Your Airbnb Guests Are Sure to Love...
SleepPhones® Affiliate Program for Airbnb Hosts
SleepPhones® headphones are a great product to enhance your guest experience and get even better reviews. The flat speakers inside of a soft, comfortable headband will allow your guests to drift off to sleep in comfort as they adjust to a different environment. The headband is machine-washable and can be washed right along with the rest of the linens. SleepPhones® are perfect for travel, too, so your guests can wear them on the plane or car ride home if you carry inventory. For information about our Wholesale Department, please email Amanda Ace at amanda@acousticsheep.com.
For you, the Host:
Free SleepPhones® product.
Discount on additional SleepPhones® product.
Commission for each SleepPhones® sale referred.
For your guests:
How to Partner With Us
Click here to register as a SleepPhones affiliate.
Include your Airbnb listing URL under "Website / Blog" in registration form.
Email darlene@sleepphones.com once registration is complete to obtain guest discount code.
Expand

AcousticSheep LLC © 2023 All Rights Reserved.