Sleep Better While Traveling
SleepPhones® Headphones Can Help Bring A Better Night's Sleep While Traveling.
You don't know how much you appreciate the quality of a good night's sleep or a power nap on an airplane until you're missing out on essential sleep while traveling.
From cramped, stiff or uncomfortable seats on planes, trains and busses, to the often-unpredictable beds, berths and sleep surfaces that await us when we travel for work or for leisure, sleeping better "on the road" is almost as important as the destination itself.
While we can't change the comfort of the bed or thread count of the sheets, and cannot predict how noisy or bumpy the plane ride might be, what SleepPhones® headphones can do is help promote relaxation, minimize ambient noise, and offer simple -- and simply comfortable -- audio headphones while traveling; whether you're sitting up or lying down.
SleepPhones® Headphones Were Invented To Help People Sleep Better.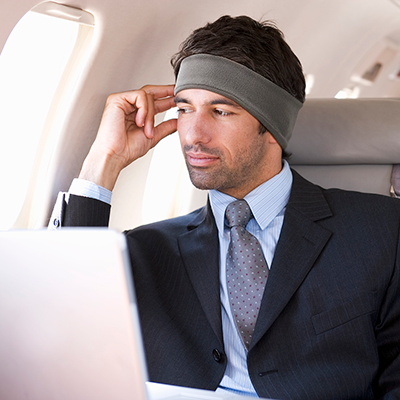 What does a family doctor do when late night patient phone calls interrupt her good night's sleep? She partners with her video game developer husband to invent headphones inside a headband that are incredibly comfortable and ridiculously wearable so that she can use guided meditation to get back to sleep faster! Read their story here!
As it would turn out, SleepPhones® headphones are good for a whole lot more. For people who want to listen to music in bed without disturbing a partner, or for people who sleep on their side or on their stomach. For people who want to minimize the sound of a snorer nearby, or a noisy apartment. Even for people seeking a comfortable, convenient (and washable) pair of headphones for working out, walking the dog, and yes -- while traveling!
At AcousticSheep™ We Spend Our Waking Hours Thinking About Sleep!
For weary travelers, anxious vacationers, business road warriors and more, SleepPhones® headphones offer a simple solution to a common problem-- getting better, deeper sleep while traveling. Our resource section contains can't miss tips and articles, and our recent blog spells out the challenges of chasing down quality sleep when traveling.

RELATED ARTICLES & LINKS
Learn more about restful travel tips and tackling the challenges of getting good rest while on the road!
Road Reminders: Healthy Habits While Traveling
Then & Now: The Challenges Of Travel & Sleep
Better Hotel Room Sleeping: Three Things To Remember
Check Out Additional Pages From SleepPhones
From health and wellness to sound sleep and better rest, our community pages explore all kinds of topics that speak to better living through better listening!

AcousticSheep LLC © 2023 All Rights Reserved.