SleepPhones® & Helping You Worry Less
Four Practical Ways to Worry Less
Between the 24-hour news cycle, health concerns, work stress, and the litany of other challenges life creates, people are often consumed by worry for a least a portion of their day. Depending on what's causing it, and when you're experiencing it, it can be either helpful or harmful.
To understand this feeling, where it comes from, and how to manage it, AcousticSheep LLC outlines four practical ways to worry less and explains why SleepPhones® headphones can be a helpful tool for regular worriers.
What is Worry and Why Do We Feel It?
Worry is a cognitive state wherein people have repetitive thoughts about a particular situation or problem. Generally, worry is accompanied by feelings of uneasiness. Put simply: Worry is what happens when our minds focus on negative ideas or issues that could possibly arise.
Although it is a universal emotion, if we don't process worry in the right ways, it can cause tension, irritability, and sleeplessness. At low levels, though, worry can be productive. For instance, if we're concerned about making it to work on time, it may prompt us to leave a few minutes early.
Conversely, when worry becomes chronic, it can affect other aspects of our life, such as diet, relationships, and sleep. Because of its ability to impact other areas of mental and physical health, chronic worry can endanger our wellbeing.
For instance, if a situation that is out of your control is keeping you up at night, you need tools and strategies that minimize your level of worry. Left unchecked and without intervention, worry can lead to anxiety, depression, and even physical health problems.
But why do we worry in the first place?
Researchers from Université Laval in Québec who assessed subjects through questionnaires discovered two underlying reasons.
First, they found that we don't like uncertainty nor being surprised by bad news. It's for that reason that we try to anticipate anything that could go wrong. We think that worrying can prevent bad things from happening.
The other reason we worry is to find a way to control situations and find solutions to dilemmas. Unfortunately, life rarely hands us problems we can worry ourselves into solving. The good news is, you can lower your anxiety levels by making a few simple lifestyle changes.
Here Are 4 Quick Tips for How to Worry Less
SleepPhones® and RunPhones® May Help You Worry Less
Sleeping well, moving your body, getting outside, and making smart media choices can provide you with the tools you need to lower anxiety. If worry keeps you awake, consider trying SleepPhones® to get more and better rest. AcousticSheep LLC offers the world's most comfortable headphones for sleeping and relaxing.
Can't Sleep Because You're Worried About the Coronavirus?
Check out SleepPhones' quick guide and infographic to combat worry about the coronavirus so you can get a good night of sleep.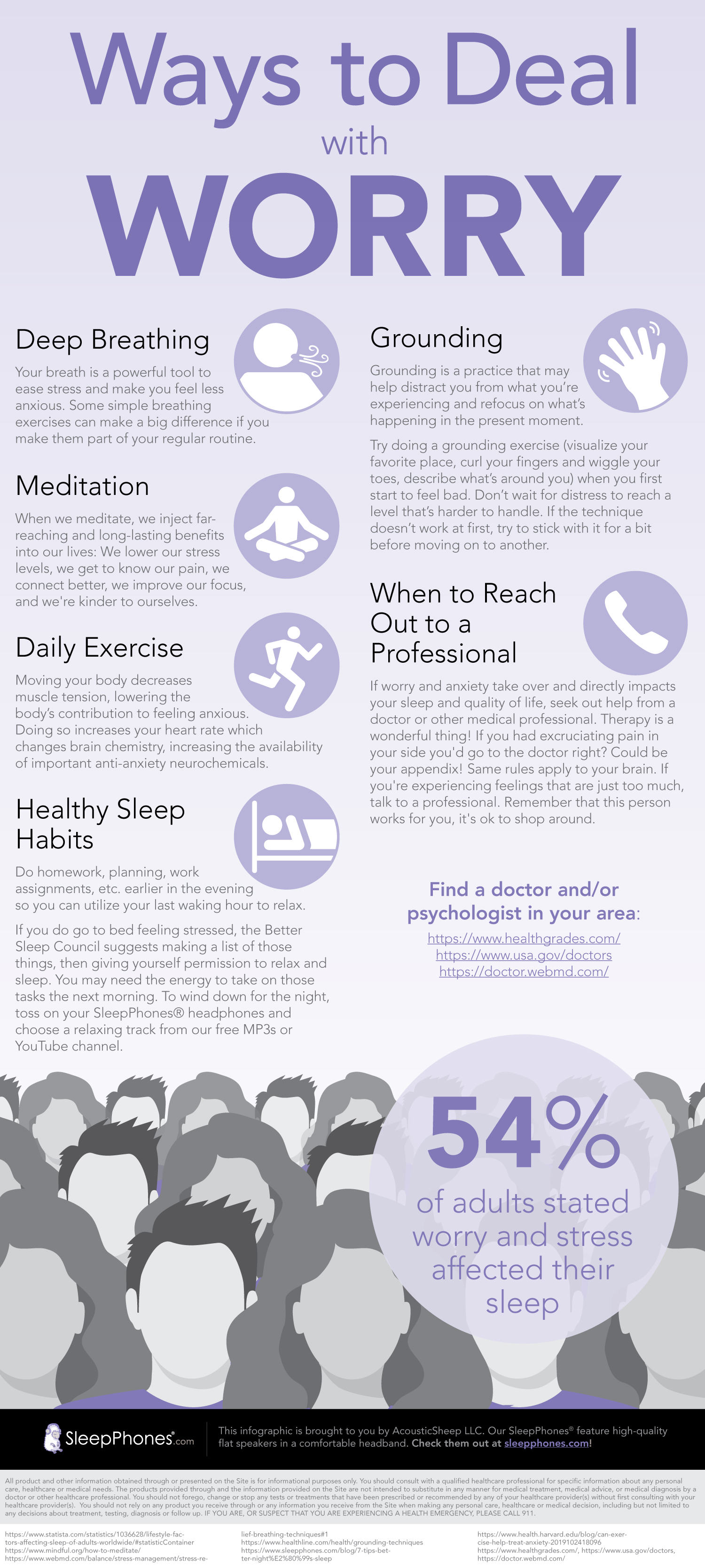 Expand

AcousticSheep LLC © 2023 All Rights Reserved.