6 Reasons ASMRtists Say SleepPhones® are the Ideal Gift for Everyday Listening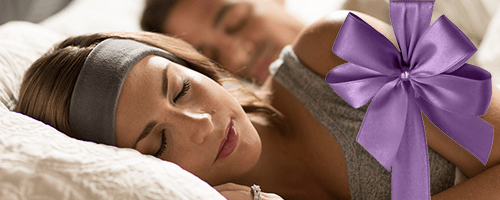 The approach of the holiday season leaves us tingly—much like ASMR. But finding an ideal gift is not at all a relaxing experience, and neither is sleeping with traditional earbuds or headphones. Lucky, SleepPhones® headphones are the best choice for you, whether you are a fan of ASMR or just someone who needs TV, music, podcasts, audiobooks and meditation to fall asleep.
Take it from some of YouTube's top ASMRtists, whose followers range from tens of thousands to a few million people. No matter what model of SleepPhones® headphones you use—whether BlueTooth® or corded, fleece or breeze SheepCloud™ fabric—we guarantee you will be satisfied.
"And, all the while, you look very stylish while wearing, if I do say so myself." — Be Calm with Becca ASMR, the face of SleepPhones®: ASMR Edition
Here are 6 reasons SleepPhones® headphones are the ideal gift for listening, especially to ASMR. Read as these artists review our headphones, meanwhile role-playing, whispering, tapping and brushing in true ASMR fashion.
1. You'll fall asleep in no time.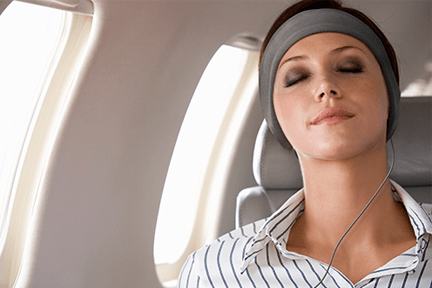 Are you kept awake by anxiety or snoring? Are other sleep aids or sleeping pills not working the way you want them to?
SleepPhones® headphones can help. Designed by a family doctor, our headphones have overwhelmingly satisfied more than a million people worldwide compared to others products on the market. They muffle outside noises without blocking them entirely. So, you can sleep in a noisy atmosphere, like in the city or a college dorm, but still remain aware of a fire alarm or crying baby.
ASMRists who use SleepPhones® headphones cannot imagine anything else. After doubling her headband as an eye mask, Jodie Marie ASMR said she had the best sleep ever. Maria of Gentle Whispering ASMR fell asleep as soon as she put them on. Valentina of Starling ASMR used hers for two weeks in a row, and her sleep changed drastically.
Our mission to create a world of happy, healthy, well-rested people starts with you. So why wait? Give yourself and someone you know the gift of sleep this holiday season.
"These really are a benefit. Honestly, they're like the nicest things I can imagine. I don't sleep without them anymore, and I really wish I had bought them sooner." — Jodie Marie ASMR
"They work great for me and my partner. We've been using them for quite a few nights now." — Maria of Gentle Whispering ASMR
"'Pajamas for your ears.' Which is true, which is true. Since I got these, I don't go to bed without them. I would definitely, definitely recommend this." — Valentina of Starling ASMR
2. You can wear them anywhere.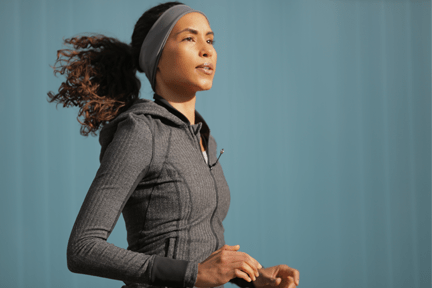 SleepPhones® headphones are not just for sleeping—they're great for exercise. Benjamin Killams ASMR recommends taking them on your next dog-walk or even a neighborhood jog. Ana of ASMR Mamá Susurros brings hers to the gym, a place where bulky headphones and annoying earbuds would otherwise get in the way.
Our proprietary SheepCloud™ fabric makes this possible. It comes in two forms: fleece and breeze. Fleece fabric is perfect for those who like wrapping up in a cozy blanket. If you live in a colder climate or just like extra comfort when watching TV, playing games or reading a book, then fleece fabric is for you.
Alternatively, breeze fabric comes with superior breathability and moisture-wicking technology. This fabric is ideal for people in warmer climates or those whose routines include running, weight lifting and yoga. And, if your headphones get messy, no problem. Both fabrics come pre-shrunk and machine-washable.
Caring for your headphones is just as smooth and breezy. Just take out the components, throw the headband in your next normal load, and then slide the components back in once it's dried.
Even if you wouldn't wear SleepPhones® headphones on the go, they are ideal for focus and relaxation. "I wear them in bed, while studying, or just laying around," says Krista of QueenOfSerene ASMR. Likewise, Nora of Seafoam Kitten's ASMR says, "I use them in the bath. … I will definitely be using it for ASMR purposes and not-running purposes."
Any way you use your SleepPhones® headphones is the best way for you. And, who knows? They might be the only headphones you ever need to wear.
3. You never have to wear earbuds again.
Ever been trying to sleep, run, or do simple chores with earbuds only to have them leave your ears red, throbbing, and in pain? We've all been there. Having a cord makes the experience even worse: Now you're worried about untangling the speakers, carrying your device around, preventing the speakers from either popping out of or pulling on your ears...
Alternatively, traditional headphones weigh on our heads, making them even harder to sleep with. Not SleepPhones headphones®—the ideal headphones for side sleepers. Our flat, padded speakers are easily maneuverable. Just shift them inside the headband until they sit perfectly on your ear. As you lay your head against the pillow, you'll forget they're even there.
Our two BlueTooth® models—SleepPhones® Effortless and SleepPhones® Wireless—and our one corded model, SleepPhones® Classic, are perfect for general listening. Plug or connect to any device and listen to your favorite TV show, podcast, music, audiobook, ASMR… the list goes on.
For a more exclusive listening experience, you'll enjoy two of our other models. SleepPhones®: ASMR edition headphones come preloaded with 8 hours of exclusive tracks from 16 of YouTube's top ASMRtists. Likewise, SleepPhones® Simple come with 17 exclusive tracks featuring our own clinically proven sound technology. Both models put an end to the hopeless search for that perfect sound—a huge benefit if you are travelling without wifi or just ending a long day.
SleepPhones® headphones are truly "the number one alternative to wearing earbuds when you go to sleep," says Chris of Marno ASMR. Alana ASMR agrees: "These headphones will definitely put a rest to the days of being strangled by your earbuds when you're trying to fall asleep listening to ASMR." So do your ears a favor, and purchase our quality headphones this holiday season.
"These kind of headphones are a must-have for watching ASMR because, when I use earphones, the cord hurts everywhere and it almost chokes you. This is way softer. If you have a headphone, it's very hard, and after a while, it starts hurting. With this, I don't have that." — Lisa of Asmrbylisa
"I know it can be quite uncomfortable when you're trying to watch a movie in bed or perhaps your favorite ASMR relaxation video, and you find yourself getting all tied up from wires from the regular headphones. SleepPhones® is an innovative, beautiful way to rest easy using the BlueTooth® technology. They've really gone above and beyond to make your sleep experience like floating on the clouds." — Nebula ASMR
"These really, really cool headphones… are perfect for ASMR[,] and I think [they] could be really beneficial for anyone who struggles with using their earbuds." — Miss Chloe ASMR
4. You'll be receiving unparalleled comfort, quality, and durability.
At first, Lisa of Asmrbylisa doubted the sound quality of SleepPhones® headphones. Now, she likes them far better than traditional earphones. "The sound quality is so good. … You would think that it's muffled, like a damp tone, because of the fabric, but it isn't. It is very crisp, very clear."
Likewise, Charlette of WhisperAudios ASMR was unsure of wearing something on her head while she was sleeping. "But this just felt so soft and comfortable that it didn't bother me at all. … It's like feeling secure, and the sound of the video I was listening to was so close that it just knocked me out to sleep."
A refreshingly simple idea, SleepPhones® headphones have since defined a whole new market. With more than thirteen years in the making, our products continue to get better and better. We released SleepPhones® Effortless in response to busy customers who had forgotten to charge their headphones during the day. This model comes with a simple, easy-to-use, magnetic charging base, making it possible for fans to charge their headphones without ever having to remove the BlueTooth® module.
More recently, we upgraded SleepPhones® Wireless's battery to run for 12 hours instead of 10. While 8 hours of sleep is enough for the average adult, we knew that adding 4 more hours would give you even more time for naps, chores, meditation, and other tasks.
But rest assured that while the technology of SleepPhones® headphones improves, the comfort and quality will remain the same. Like your favorite pajamas or blanket, your headband should feel soft, familiar and down-to-earth. After all, we are the original pajamas for your ears. So get a headphone that feels like home, and enjoy better sleep made simple.
"This headband is very nice because it doesn't add pressure. It doesn't add any constriction. It's not tight, but it keeps your hair out of your face. And since it's thick, it doesn't slide back and for so easily as a thinner band might." — Angelica
"It's going to give you the comfort and the versatility that you need to fall asleep listening to something in bed." — Alana ASMR
"I was a little worried about what the audio quality would be in something like this, but it completely exceeded my expectations. And honestly, even if I'm not sleeping or on the go or whatever, this will probably become my exclusive set of headphones for listening to ASMR." — Corrina of ASMR Psychetruth
"I really like that it creates a really snug feeling around your head, so if you're one of those people who like warm things on you, you'll enjoy this very much." — Maria of Gentle Whispering ASMR
5. You can use the headband as an ASMR trigger.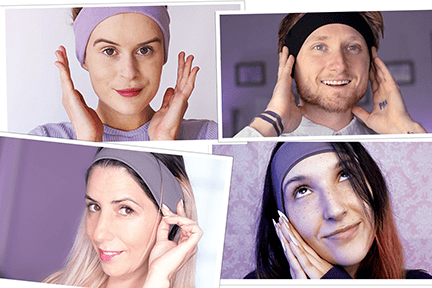 Need another reason to love SleepPhones® headphones? Corrina of ASMR Psychetruth has found one. As a hot sleeper living in Texas, Corrina loves SheepCloud™ breeze fabric not just for its moisture-wicking capabilities. She also uses it for what she calls "self-administered ASMR."
"Interestingly, the headband itself has become one of my favorite new ASMR triggers," said Corrina as she gently places her SleepPhones® headphones around the microphone, brushing the soft pink fabric with her fingernails and then with a makeup brush. It's enough to make anyone fall asleep...
With SleepPhones® headphones, you can layer the sound of the headband over your other favorite ASMR triggers. Just put them on, rub the fabric against your ears, and fall asleep faster. You'll thank Corrina and us later.
6. You'll rest assured knowing you have the best quality sleep headphones.
Finally, SleepPhones® headphones remain the best—and first—sleep headphones on the market. Other brands limit their listening experience to a single phone application. Or, they'll compete with our design without understanding what quality and comfort really means.
Take Nora's word for it. After having lost her BlueTooth® module years ago, the host of Seafoam Kitten's ASMR briefly switched to another brand of sleep headphones. It did not take her long to realize the mistake.
"They're like half the price but not nearly as good. I didn't even really use them that much because it was kinda crappy. SleepPhones® is the only way to go." — Nora of Seafoam Kitten's ASMR
Should you find yourself in the same situation as Nora, don't worry about buying another unit of SleepPhones® headphones. We sell our speakers, headbands and BlueTooth® modules (for Effortless and Wireless) separately. This way, you can conveniently pick another headband color, purchase components for other models or replace any part you may have lost. We also offer a one-year limited warranty, as well as exchanges and returns, just in case.
Get better sleep without wasting your savings. That's just one of 6 reasons why SleepPhones® headphones are the ideal gift for every holiday season. With our world-class headphones, you can finally put insomnia to rest by listening to ASMR or other listening genres. Wear them on your next flight, workout, housecleaning—anywhere. With batteries to last more than a night, and fabrics to last a lifetime, you'll never need to buy earbuds again.
To get more information on how SleepPhones® can help, check out our blog and subscribe to our newsletter by entering your email below. New subscribers save $5 off of their first purchase of $39 or more.