What to Know About Your Child's Face Mask — and How to Test Whether it's Working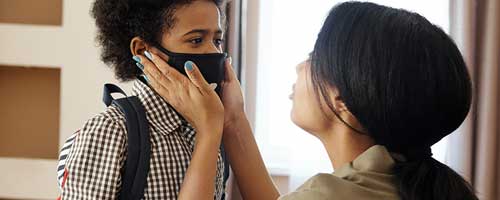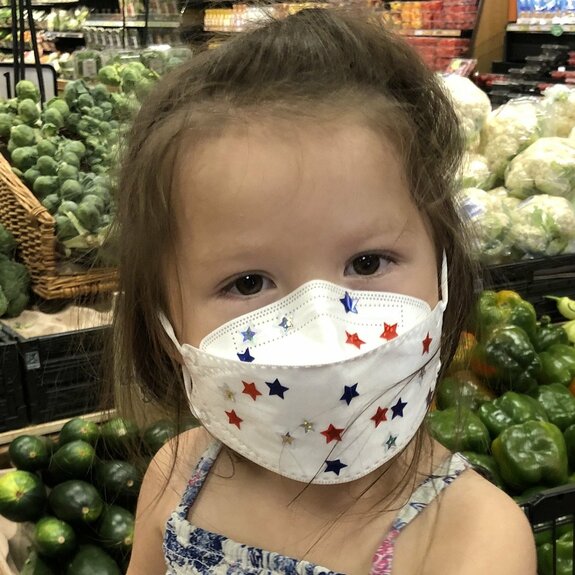 Even as schools resume, the Delta variant of COVID-19 sweeps throughout the country. With the increased transmissibility of the Delta variant, fabric masks are now only marginally protective. The Delta strain is 4 times more transmissible than the original virus, and a contagious person now has 1000 times the amount of virus in their upper respiratory tracts.
As parents to kids 11 or under, we are understandably anxious about all of this. Until the vaccines are approved for younger children, the best we can do is to advocate for best practices at our schools and to get our kids the most comfortable and protective facemasks possible.
But sourcing face masks is confusing and potentially costly. Fit is extremely important. Any leakage while inhaling means that air isn't being filtered, which is basically the whole point.
While we can't really control what others do, we can try to protect ourselves. When worn correctly and consistently, masks with quality filtration really do protect the wearer. That's how healthcare professionals are managing, and so far, even with the Delta variant, it's working.
Why Is It So Hard to Find Effective Face Masks for Children?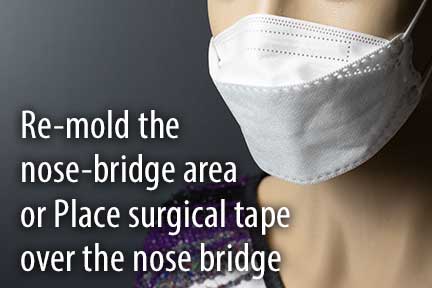 The CDC began encouraging the use of N95 masks for the general public on September 10, 2021. Unfortunately, there are no N95 masks sized for kids. The National Institute for Occupational Safety and Health (NIOSH) approves respirators for the market only in work-related situations. Because children shouldn't be working at all, let alone in environments requiring N95 masks, they just aren't available.
The current alternative for kids is KN95 or KF94. They are supposedly equivalent, filtering 94-95% of particles over 0.3 microns in size. But even then, KN95 and KF94 masks do not meet American standards. They are imported from China and Korea, and are therefore less regulated.
To make matters worse, over 60% of KN95 masks are counterfeit, according to the CDC. As someone who sells branded headphones on the top three online retailer platforms in the US, I see multiple reasons for these masks becoming so commonplace.
First, margin and endless inventory are quite important to getting not just the "add to cart" button but also high search rankings. It makes sense for platforms to prioritize items that are both profitable and always in-stock. But this comes at the cost of having fast-produced, low-cost and low-quality items at the top of results.
Second, reviews are very often gamed or faked, especially with imported products. Online shopping platforms love the quick, low-cost supply chain of foreign factories, and governments are always looking to increase their exports. Companies obviously want to jump in on the demand, so they will artificially inflate their reviews through a variety of tactics. These include hijacking reviews from one product to another, faking purchases from zombie accounts, or offering rebates to real customers if they leave a positive review.
Finally, at the biggest online platform warehouses, products are co-mingled. This means everything with the same code ends up in the same inventory bin. If inferior knockoffs fall in the mix, it would be impossible to tell. So one batch you order might be the legitimate goods, but the next batch may be counterfeit.
What Brand of Mask Should Your Kids Use?
Often, parents are left to judge the quality based on trust of brand, reviews, or word of mouth. Knockoffs abound, and many of the so-called "brand" names sound pretty dodgy to me. I've seen masks claim 95% filtration but not specify the particle size. One brand calls themselves M95, as if M was close enough. Another perfectly covers up the K in the photo of the KN95 box.
I'm a pretty skeptical person, so rather than trying to tease out which "brands" I want to try, I asked my contacts in Asia which brand has the most reliable quality. Apparently the brand they trust is Winner. It's carried at pharmacies and JD.com, which rigorously screens brands and only carries authentic products.
In our experience with sourcing in Asia and selling our brand on JD.com, I feel quite confident in this brand and the reliability of my contacts to find only authentic products. Interestingly, I haven't found any imports of Winner brand masks at the biggest online retailer in the US yet, possibly because Winner is more expensive than the top selling products.
Perhaps there are good brands on other websites, but after "seeing how the sausage gets made," I don't trust those platforms' inventory systems enough. That's why I'm purchasing directly from Asia where I have a better grasp of mask origin and traceability.
What Am I Doing to Keep My Kids Safe — and Interested in Wearing Masks?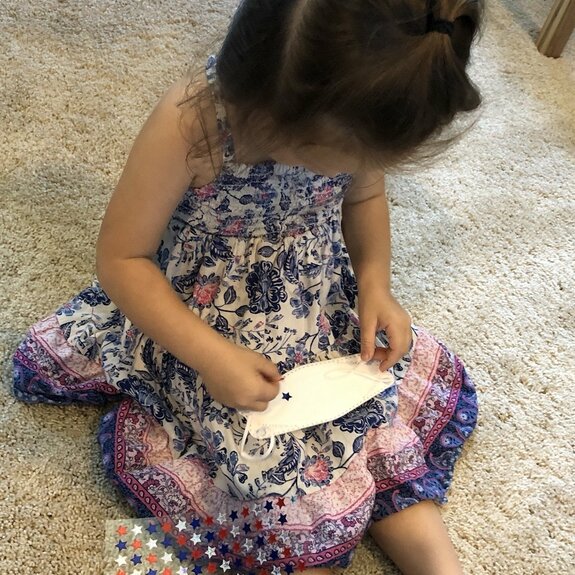 I bought 500 KN95 masks to start. My school-age child will need to wear these masks for 50-60 school days prior to being fully vaccinated. After that, he may wear whatever mask is most comfortable.
Our company has quite a few parents, so some of the masks will go to them. We are offering some for sale through our website as singles ($2.95) or packs of 5 ($11.95). Just one should be adequate for you to evaluate whether or not it fits. If it works well for your child, then order the bigger pack! You can reuse these day after day as long as they don't get too dirty.
These masks fit ages 2-10, depending on your child's face shape and size. They have a nice, wide nose wire, and the ear loops are soft and comfortable. They're in limited supply, and I'm hoping to not need any more after the vaccines are available for all kids. (Crossing fingers on future variants.)
When asked to wear the plain white mask, my toddler said she preferred the colorful fabric masks from before… until I offered stickers. Now, she can't wait to decorate her masks and show them off.
Stickers won't compromise the integrity of the filtration. Crayons and water-based markers may work on the masks too, but I would be slightly concerned about volatile organic compounds (VOCs) or damage to the mask if the child presses down really hard while drawing. Definitely avoid permanent markers or anything with that "new car smell" (which are likely also VOCs).
How Can You Easily Test Your Child's Mask at Home?
When wearing N95 masks (or more accurately, N95 respirators), healthcare professionals are "fit-tested" by an infection control expert. During a fit test, the subject wears an N95 mask under a larger clear hood. The infection control personnel sprays saccharin (a sweet-tasting chemical) into the hood. Then the subject must say something, like counting to 20, while making a variety of common facial expressions, head, and body movements.
If the subject tastes the sweetness too quickly, then they have to restart the fit test with a different mask style or size. That's why there are so many styles of N95 masks from duck bills to foam cups. Everyone's face shape is slightly different, and it's important to try out different options to find the best one.
Short of N95 respirator testing at a hospital, you can try a few tricks for fit testing at home with your kids. A few words of caution: Anything you try at home is at your own risk and should not be considered 100% protective or accurate. Don't put a bag (to simulate a hood) over a kid's head, as that sets a bad example and risks suffocation if they try it on their own. Don't spray any liquids on the mask because that can compromise the mask and influence the test.
Here is how I would recommend testing your child's mask:
Have the child put on their mask by themselves, molding the nose wires as they might.
Check the ear loops for a snug fit but not too tight to hurt over time.
Pour a few tablespoons of ground black pepper into a large mixing bowl. Have the child dip their entire face into the bowl.
If they can smell the pepper, don't panic. Aromatic compounds from the pepper can pass through the filter, but the particulate dust that causes sneezing cannot.
If they start sneezing, take a 5-minute break. Then, do any of the following:

Retest with a different mask style or size

Adjust the fit of the ear loops

Re-mold the nose-bridge area

Hook the ear loops to something else

Place surgical tape over the nose bridge

Repeat until your child doesn't sneeze anymore when exposed to black pepper.
Conclusion
The Delta variant is in high transmission in our area. Classes are going virtual for two weeks because 10% of the students tested positive, affecting multiple grade levels.
It was only a matter of when, so it's a good thing our child has been diligently wearing his KN95 mask the entire time. His latest test continues to be negative.
Many people are no longer wearing masks, and many continue to wear them incorrectly. When other people around you don't wear a mask appropriately, you can still protect yourself. This means getting vaccinated (if possible) and wearing a high-grade respirator like N95, KN95, and KF94.
Dr. Wei-Shin Lai was a family physician for ten years with interests in public health and epidemiology. As a physician on call at night, she needed to listen to relaxing music to get back to sleep. Dr. Lai and Jason Wolfe, her husband, invented SleepPhones® headphones in 2007 and co-founded AcousticSheep, LLC, located in Erie, PA. They now sell SleepPhones worldwide, winning numerous product, industry, and corporate awards over the years.