SleepPhones®, The Most Comfortable Headphones to Wear When Working from Home
If you're one of the 96 million Americans currently working remotely, then you're probably fed up with the clunkiness of over-ear headphones or incessant tangles of earbuds (not to mention the pain that comes with sticking those things in your ears!). Lucky for you, we have the most comfortable headphones to wear when working from home. They're called SleepPhones® headphones.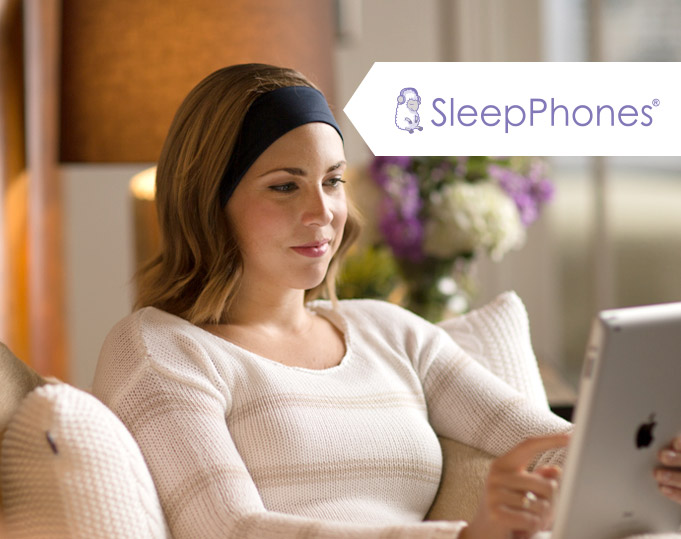 We know what you're probably thinking: SleepPhones? I'm barely staying awake on my Zoom calls as it is! But the truth is, SleepPhones® headphones are ridiculously comfortable to wear all day. And, while this may seem obvious, it's not necessarily the headphones themselves that make people sleepy, it's what's coming through them.
With the SleepPhones® Wireless, you can eliminate the pain of in-ear headphones and the bulkiness of over-ear headphones, all while maintaining exceptional sound quality. To help you decide if SleepPhones® are right for you, we've outlined five benefits that we think set them above the rest.
1. There's a Tangle-Free Option
If you added up all the minutes you've spent untangling earbud cords over the course of a year, you'd probably be looking at hours of unproductive time. Skip the whole hassle with the SleepPhones® Wireless. They're cord-free, just the way headphones should be!

This model utilizes Bluetooth® technology to connect with compatible devices wirelessly. Easily pair your smartphones, tablet, computer, or any other Bluetooth®-compatible devices. Basically, you never have to worry about untangling cords again!
Not always right next to your device? Not to worry. You can be up to 30 feet away from your device with the SleepPhones® Wireless.
"I bought these not knowing what to expect, but I absolutely love them! I use them several times a day and all night. I listen to rock, disco, rap, metal, everything I want to hear. I simply can't live without them." -Tony D.
2. AcousticSheep LLC Turned Up the Comfort-Level to 11
With a patented super-soft, breathable, silky headband, SleepPhones® are like pajamas for your ears. What's more, SleepPhones'® headbands are made out of recycled material. For example, the fleece fabric is made of 88% recycled plastic bottles and12% spandex. So, not only will your ears be floating on proverbial clouds, but you can feel good about what you're wearing (and we use all lead-free electronics!)
SleepPhones® headphones are available in two types of fabric for optimum comfort:
Breeze Fabric
Fleece Fabric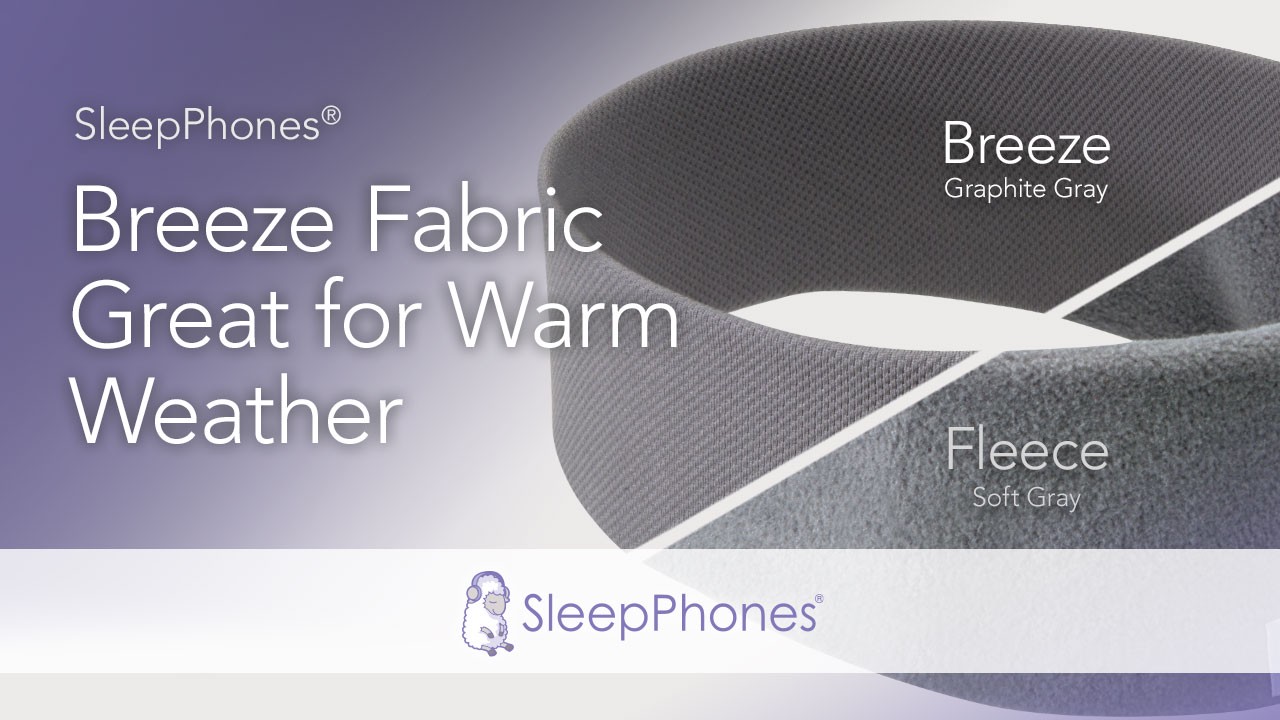 Our innovative SheepCloud™ Breeze fabric is cool, breathable, and moisture-wicking. It's geared toward people who are prone to get hot quickly or live in warmer climates. The Breeze fabric is also ideal for running and exercising.
Conversely, our SheepCloud™ Fleece fabric is woven from luxurious, smooth fleece for a warmer, comfier fit from the beginning to the end of your workday. It's ideal for sleeping, relaxing, meditating, and everyday use.
Finally, and perhaps more importantly, you don't have to worry about painful earbuds or bulky headphones.
3. The Sound is Excellent
SleepPhones® headphones provide an immersive sound experience. Even with the volume low, they're excellent at reducing ambient noise, conversations, and traffic sounds. They also feature convenient built-in volume, play, and pause controls.
What's more, the SleepPhones® offers a wireless headphone model with a built-in microphone, making them perfect for video conferencing, phone calls, and voice-to-text.
"Easy to set up and maintain. Comfortable wear throughout the night (side and back sleeper). Solid sound quality and battery life. Judging by other reviews it seems like customer service is prompt and helpful, although I haven't had to use it. Would recommend to anyone looking for a comfy, unobtrusive way to listen themselves to sleep." -Monarch
4. They're for More Than Work
SleepPhones® are built for more than work, and of course, sleep. They're ideal for traveling, yoga, hiking, snowboarding, jogging, skiing, and all-around leisure time. Plus, the battery life is epic, giving you up to 10 hours of non-stop use.
Should your headband need a thorough cleaning after your activities, all you need to do is remove the speakers and toss it right into the washing machine.
"I ordered a pair for myself to do meditation (Headspace). I left them charging and next thing I know my 17 yo is wearing them listening to music while cleaning. Her sister (15 yo) tries them and suddenly I am placing an order for 2 more, if different colors so we can tell them apart. Same night I go to bed and I'm doing my meditation and my husband is complaining I'm not listening to him. I show him the headband, and I yet again hijacked to listen to music... so here I am a couple of days later ordering 1 more for him. I have washed the headband and no issues at all (breeze fabric). Holds a charge for quite a while and very comfortable. 17 yo charged it overnight and proceeded to use them ALL DAY Saturday working in the yard. Easy to adjust where the soft speakers are located. Haven't found a down side yet, and I don't expect to." -Angela S.
5. They're Made By People Who Care
AcousticSheep LLC, makers of SleepPhones®, was founded in 2007 by Dr. Wei-Shin Lai, a family physician, and her husband Jason Wolfe, a video game developer. For the first six years, Jason and Wei-Shin ran the business from their kitchen table.
After selling 100,000 pieces, they took their business to the next level, hiring their first full-time employee and setting up their warehouse in Erie, Pennsylvania. Since leaving their day jobs in 2013, Jason and Wei-Shin have hired a team of more than 20 people and won numerous awards such as the:
Entrepreneur of the Year in PA (SBA)

Entrepreneur of the Year in Western PA & WV (Ernst & Young)

Small Business of the Year with the Consumer Technology Association.

8 Consumer Electronics Association Innovation Awards

2 Pennsylvania ImPAct Awards (Entrepreneur and Exports)

Red Dot Design Award
Being headquartered in the middle of the rust-belt, Wei-Shin and Jason understand the value of hard work and the importance of fostering a fun, innovative work culture. Furthermore, the husband and wife team continuously search for ways to make SleepPhones® headphones more eco-friendly and safe.
To help ensure SleepPhones® customers are satisfied with their products, they offer a one-year limited warranty and 30-day return policy. Should you need to replace a part of your SleepPhones® you can always affordably replace just that part instead of having to buy a whole new set. Our friendly customer service team is happy to help via phone (877-838-4790) or email (service@acousticsheep.com).
AcousticSheep Is Here To Make Working from Home Better
If you're looking for a super comfortable, washable, and hypoallergenic pair of work headphones, we think SleepPhones® from AcousticSheep are your answer. Please visit our online store to see all of our headphone options.

AcousticSheep LLC © 2023 All Rights Reserved.