Jason Wolfe, CTO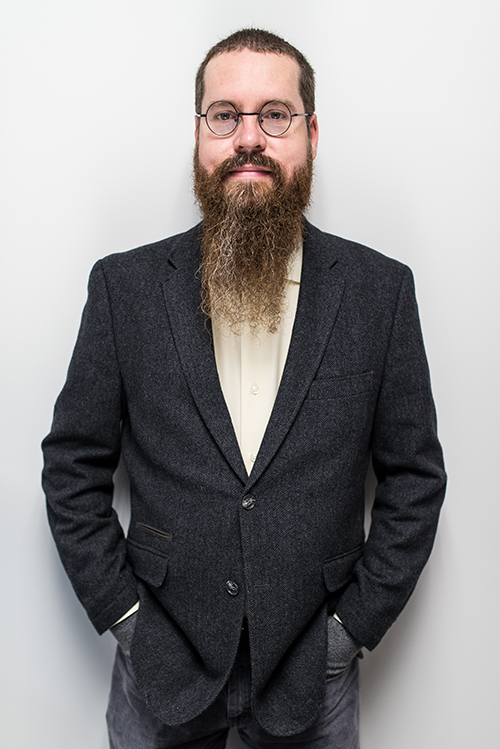 A 'Wolfe' in AcousticSheep's Clothing
Meet AcousticSheep CTO, Jason Wolfe
Just about equidistant from Pittsburgh and Erie, PA, there is small municipality called Cambridge Springs. With a population of just over 2,500, Cambridge Springs was once known for its rich mineral springs and historic hotels. It was here that Chief Technology Officer (CTO) Jason Wolfe began noticing the downtown shops of both cities and rural boroughs were falling prey to big box stores.
Jason states, "At one point in time, small towns like the one where I grew up had really nice buildings downtown, and then downtowns kind of fell to the mall... and now malls have fallen to Amazon. I suppose everything changes over time but I think we should bring those times back."
Jason also observed a seemingly innate drive in many millennials to leave their small hometowns in pursuit of a brighter future. However, when all the talent leaves, what remains is only a shell of both the workforce and the buildings that once held their operations.
"I thought, what if we could come back and do what we know how to do: start some business endeavors with high-tech practices and take a more modern approach to things?" Jason muses. "Then hopefully, we could build some of these areas back up."
AcousticSheep Shifts Headquarters
In April of 2014, AcousticSheep's operations moved to Erie, PA so that Jason could be closer to his family and, ideally, change the economic landscape of the lakeside city. Today, Jason and his wife Wei-Shin Lai, CEO of AcousticSheep have grown the business substantially: they employ more than 20 people, have multiple warehouses, and work from a beautiful industrial-chic office that fosters and facilitates a modern, mindful, micromanage-less work culture.
"We wanted to have a company where people could set their own path. We went after self-starting people who show initiative and don't need a lot of oversight. We don't want to micromanage." Walking into their office, one gets a sense that, as a worker, you'd be allowed and even encouraged to take a break when you need one (hence the relaxation room with comfy furniture and dimmed lights). The philosophy is that, if a quick recess allows employees to work more efficiently and effectively, it's well worth it.
"I think we've achieved that," Jason states. "It's kind of laid-back, but we do what we need to do to get things done."
However, before the beautiful office, the truckloads of SleepPhones being delivered day in and day out, and a world-class team of employees, AcousticSheep started on a kitchen table in Wei-Shin and Jason's tiny, Stamford, Connecticut apartment.
Counting Sheep Didn't Cut It
"We always had some great ideas and some of them were specific to needs that we had. Wei-Shin had a hard time falling asleep after occupational calls, so we invented a product to deal with that," Jason notes. Wei-Shin was working as a physician at a private practice and was on call every fourth night. Jason was employed as a game developer and programmer and admits that in the field of game development, "Strange sleep patterns are par for the course." For both Jason and Wei-Shin, sleep was becoming more imperative, yet increasingly scarce.
When Wei-Shin was paged (generally in the wee hours of the night), there was nothing for her to do but dive into work mode. Flicking on the computer, only to get blasted by the bright light of the monitor, she began analyzing patient histories, medication schedules, and whatever the issue happened to be on that particular night.
After being awoken by a multitude of emergencies, which demanded quick, critical thinking, it was often difficult for Wei-Shin to fall back to sleep. To make matters worse, both Wei-Shin and Jason's computers were crammed into their bedroom, so when one was awake, the other was too.
"Jason is always reading online, and always ahead of trends," says Wei-Shin. At one point, within his research, Jason stumbled upon an article about binaural beats. In essence, two pure-tones are isolated and panned to left and right (imagine wearing headphones) and each are presented at different Hertz (Hz). When this occurs, the listener will perceive a third tone, or auditory illusion, that correlates with the other two.
The idea is to find a pair of tones that will influence your brainwaves to resonate the way they do while you're asleep. "Nobody knows about this stuff—or at least I didn't," admits Wei-Shin. "It's a little off the beaten path, but Jason read about it and thought it might work."
With one solution on the table, the next problem seemed to rear its ugly head almost immediately.
Headphones Hurt, SleepPhones Help
If you've never tried to fall asleep with earbuds in your ears, then you may not be aware that the feeling may be likened to someone slowly stabbing you in the ears. So, while the binaural beats were a promising solution to Wei-Shin's growing sleep problems, there were no headphones are the market that were comfortable to wear to bed.
From an online electronics supply company, Wei-Shin and Jason started buying different kind of speakers that could be soldered to fit the form factor they were looking for. Moreover, they frequented Jo-Ann Fabric for headband material.
"Every time they had a sale on fleece fabric we went in and bought all of the grey," Wei-Shin laughs. The two began tinkering over the idea, determined to find the perfect prototype for a pair of comfortable sleep headphones, or as it would be ultimately dubbed, SleepPhones. "It was like a hobby," Jason remembers, "something we did on the kitchen table. I would solder and Wei-Shin would sew every night."
About a month later, they had a working prototype: a comfortable, super soft, and high sound quality set of headphones that would stay on all night. "For a long time SleepPhones were handcrafted," Jason says reminiscently. In fact, the first 500 pieces were hand-sewn and soldered at Jason and Wei-Shin's kitchen table.
Ramping Up
Wei-Shin started suggesting to her sleeping-pill dependent patients to try SleepPhones and the feedback was astonishing. It was allowing people to calm their busy minds, fall asleep (and stay asleep), and awaken well-rested and ready for the day.
Officially, the company launched in June of 2007. "We were still working at the time, but we're kind of workaholics," Wei-Shin says about their early years. "We came home and did more work. But it was fun. We like solving problems and learning new things."
"Our biggest hurdles became our biggest strengths because learning is what we're good at," adds Jason. "Learning new things, and then putting them into practice."
Resonating with the Community
"We try to have a big impact," says Jason, "There is a vibrant community [in Erie] that's trying to create more opportunities for entrepreneurs...trying to attract new models of business, and I think we're one of those opportunities."

AcousticSheep has won countless local, national, and even global awards for their quality products, outstanding business, and environmentally friendly and responsible methods of manufacturing. They've won the Honorable Mention Red Dot Award, the Consumer Technology Association's Innovation Entrepreneur Award in 2015, and are the five-year winners of the Consumer Electronics Show Innovation Award.

Moreover, Jason and Wei Shin have been featured on Innovation Nation on CBS, QVS, Inc.com, CheapFlights.com, and Kiplinger.com, just to name a few.

From a video game developer in a small apartment in Connecticut, to a CTO of a major player in the audio industry, Jason Wolfe is poised to grow AcousticSheep to great heights. His mission is to provide encouragement for other entrepreneurs and to illuminate what is possible with some hard work, a great idea, and of course, a good night's sleep.

"I want AcousticSheep to be a shining beacon for different aspects of business," Jason says. "I hope it has some impact and influence in a positive way."

AcousticSheep LLC © 2023 All Rights Reserved.