30 Relaxing Halloween Videos: Ambience, ASMR, Instrumental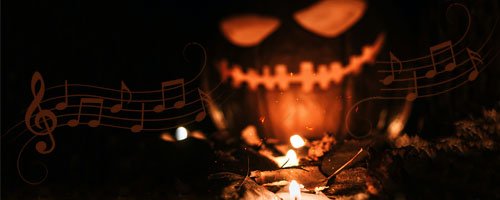 Something tranquil this way comes… And it's our list of 30 favorite Halloween-themed tracks on YouTube!
Don't believe that Halloween music can be relaxing? Then give these videos a listen. We've made sure each of them are free of blood-curdling shrieks, flickering lights, creaking floorboards, manic breathing—anything that would otherwise get your heart racing. Each of them are designed to help you sleep or even add ambience to your own spooky dinner party.
And what better way to listen to these tracks than with your own SleepPhones® headphones? If you're looking to ditch uncomfortable earbuds or bulky headphones, then here's your solution! Thanks to our comfortable headband headphones, millions of people worldwide have conquered their fear of facing yet another sleepless night. They muffle the sounds of a snoring partner while helping you "keep an ear out" for things that go bump in the night. The quality is so good, it's scary. Learn more about them here.
"My SleepPhones® are, hands down, the best sleep aid I've ever owned. Pop those bad boys on, and if my anxiety is particularly bad, I listen to something that requires me to focus (a tv show, or a podcast)" — Stephanie Rosen
So without further ado, here are the 30 videos you should be listening to this Halloween season.
Musical Ambience
What is Halloween without spooky music? The deadest day of the year—and not in a good way.
But that's not all we have here. We looked for music that's not too sinister yet creates that unique Halloween feel. So, while all 11 of these videos are great for trick-or-treaters, they'll also get you in the mood for carving pumpkins—even when you're fast asleep.
Natural Ambience
Not looking for Halloween music, but want something equally spooky to put in the background? Check out these 9 videos. With them, you can imagine yourself in almost any Halloween situation. Walking through an old graveyard, trudging through a dark forest, sleeping through potion's class… You name it, we have it!
Most of these tracks border on ASMR. But we'll get to that category later.
ASMR
If you experience autonomous sensory meridian response, you'll like these 8 Halloween-themed videos. Many of the ASMRists listed here had helped us make SleepPhones®: ASMR Edition headphones, the world's first sleep headphones with preloaded ASMR tracks.
Here, we included videos that are truly Halloween-inspired, using words, materials, and role plays that are unique to this time of year.
Lucid Dreaming and Hypnosis
Finally, for those who want a more productive sleep, we have one video for lucid dreaming and another for hypnosis. Whether you're just a daring individual or someone who truly wants to confront your subconscious mind, either video should help you trigger a spooky dreamstate.
Long Creepy Scary Halloween Lucid Dreaming Music

Our friends at Brainwave Music create wonderful sounds that are designed primarily for relaxation. As soon as the transcendental tunes mix with owl hoots, cricket chirps, and wolf howls, this video will make you feel like you're exploring an abandoned cathedral buried deep in a dark, enchanted forest.

For their other Halloween-themed tracks, listen to "The Abandoned Village" and "Tales of the Nightman." All of them are eight hours long and should keep you dreaming throughout the night.

9 Hours of Sleep Hypnosis for Nightmares and Unsettling Dreams

If you're a fan of horror movies, then this video may be for you. The creator of this channel regularly posts what he calls "nightmare fuel" and tried his hand at hypnosis a few years ago. Who knows? Listening to this hypnosis might be a good way to confront your fears even as you sleep.

But if you're just looking for a sleep aid, the creator made a shorter video, which is free from all the creepy chanting.