Leo Laporte Wears SleepPhones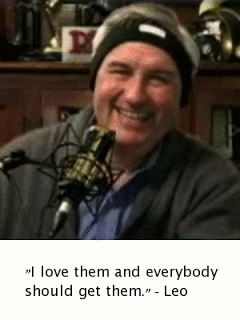 Leo Laporte Wears SleepPhones on Giz Wiz Episode 972 

Leo Laporte, the Tech Guy, loves his SleepPhones and wears them throughout the entire GizWiz show on November 30, 2009 (Episode 972) instead of his big bulky professional headphones. Here are select quotes:

"I wear them to bed every night now. I've been listening to my audiobooks with this thing. Highly recommended."

"I love them and everyone should get them."

"I don't know if you've ever tried to wear headphone to bed, but you can't!"

"The problem with listening at night is you have to wear headphones. You can sleep in these, and then you can listen to your audiobooks. I love them!"

"This is brilliant! The sound quality is very good. That's my pick of the week."

We sent Leo Laporte some SleepPhones and he loved them!

Episode 972 The Giz Wiz can be watched online! (new link) (old link)

AcousticSheep LLC © 2023 All Rights Reserved.