7 Packing Tips for Summer Travel [Infographic]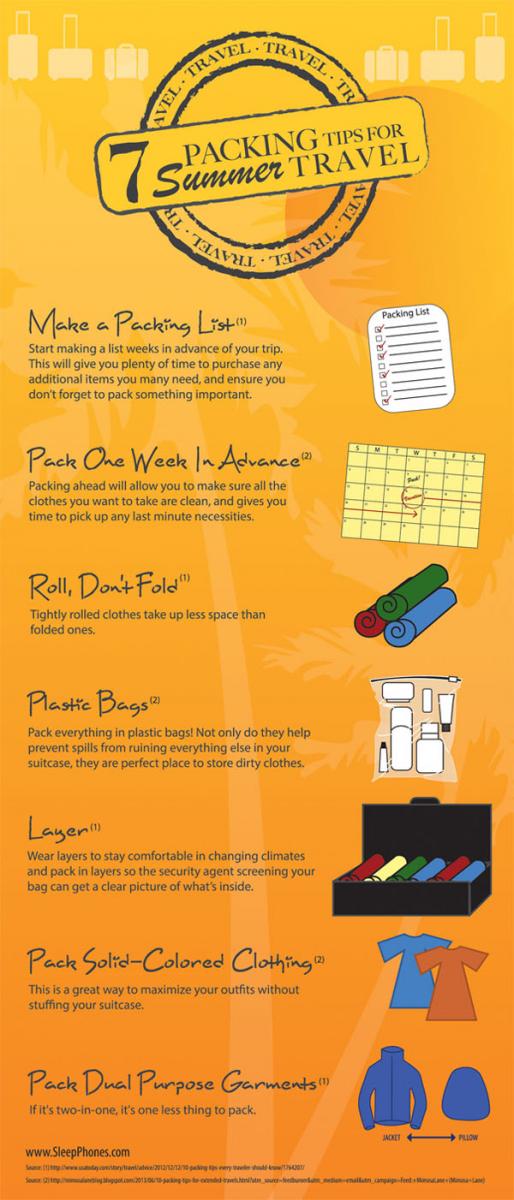 Transcript
7 Packing Tips For Summer Travel
Make a Packing List: Start making a list weeks in advance of your trip. This will give you plenty of time to purchase any additional items you may need, and ensure you don't forget to pack something important.
Pack One Week In Advance: Packing ahead will allow you to make sure all the clothes you want to take are clean, and gives you time to pick up any last minute necessities.
Roll, Don't Fold: Tightly rolled clothes take up less space than folded ones.
Plastic Bags: Pack everything in plastic bags! Not only do they help prevent spills from ruining everything else in your suitcase, they are the perfect place to store dirty clothes.
Layer: Wear layers to stay comfortable in changing climates and pack in layers so the security agent screening your bag can get a clear picture of what's inside.
Pack Solid-Colored Clothes: This is a great way to maximize your outfits without stuffing your suitcase.
Pack Dual Purpose Clothing: If it's a two-in-one, it's one less thing to pack.
AcousticSheep LLC © 2023 All Rights Reserved.