RealSleep is a well-produced CD of relaxing classical music songs overlaid with binaural beats. We made the mistake of listening to it on the way home from work and had to go straight to bed when we got home. Each song has several refrains, each with a slightly different interpretation of the melody. It's really very lovely. But it's hard to stay awake to fully analyze all of the songs! The CD has been tested in clinical trials and shown to be effective in improving sleep. I also like that it uses classical music because that might make you smarter! In other studies, rat listening to heavy metal can't run around a maze as well as rats listening to classical music.
RealSleep has an innocent quality because it's so peaceful and simple. It is being marketed for kids currently, but I think it works for anybody. We really enjoyed the music, and it definitely made us sleepy!
So here's the list of songs and credits.
Track Length
Delta Wave Canon 4:05
Subvocalize 6:06
Basking Breeze 3:22
Maria's Song 4:41
Lullaby and Goodnight 5:11
Arcangelo's Tale 3:18
Evening Joy 3:17
Sicilienne Dreams 3:08
Night Air 3:19
Original recordings, based on:
J. Pachelbel, Pachelbel Canon for Violin and Piano
Sergei Rachmaninoff, Vocalise for Violin and Piano, Op. 34
J.S. Bach, Arioso
Charles Gounod, Ave Maria
Johannes Brahms, Wiegenlied (Lullaby-Berceuse) Op. 49 No. 4
Credits:
San San Lee - Violin
Bernadette Hoke - Piano
Lance Massey - Additional instruments
Seth Horowitz, Ph.D. — computer algorithms
China Blue — CD art and design
Recorded and and engineered by Lance Massey
Produced and arranged by NeuroPop
Lance Massey is an acquaintance from back in Stamford, CT. He was working at the same place as Jason back in early 2007. I met him at his going away party when he took a job elsewhere. At that time, Jason had just joined the company. So we really didn't know each other well. A few weeks ago, Jason was reviewing the website referrals for SleepPhones and found that a few hits came from Lance's Facebook page. Well, that was quite strange since he would not have known about SleepPhones. But then we figured out what happened. One of the other co-workers who knew both Jason and Lance commented on his post.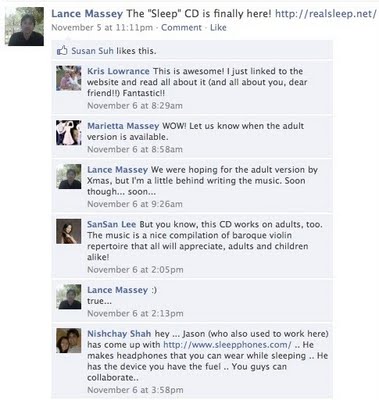 Go Nishchay! Thanks to him, we hooked up with Lance, and then we just talked with RealSleep's marketing director David. Some time next week, we'll start selling RealSleep on our website.