Give Yourself a Silent Night with Holiday Ambience, Music, and ASMR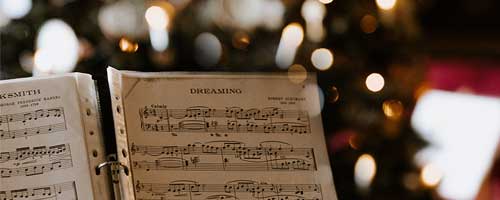 Holiday music is easy to love and equally easy to get annoyed by. What you need is to get in the spirit of the season—without getting the songs stuck in your head. So, we put together a list of our 30 favorite holiday videos that are guaranteed to help you sleep, study, relax and more.
What makes a video naughty or nice? This list includes:
Traditional songs played at soothing instrumental tempos, whether in the classical, jazz, or acoustic guitar genres
Upbeat original holiday music that keeps the fun going, without keeping you up at night
Natural ambience and soundscapes that capture winter's majesty
ASMR roleplays with lovable characters and holiday triggers
Quality meditations, binaural beats, and bedtime stories that will have you dreaming of sugarplums
When all the grocery stores and radio stations are on their collective mission to barrage you with earworm-inducing tracks, check out our bag of holiday goodies below. Better yet, listen to these videos with SleepPhones® headphones—the guaranteed best stocking stuffers for audiophiles, wellness enthusiasts, and anyone who needs quality sleep. Settle into this cozy headband equipped with thin, high-quality speakers… because the pain of traditional headphones and earbuds is so last-season. Sign up for our newsletter to get deals on the comfiest products year-round.
"I love my SleepPhones and bought them for 6 family members for holiday gifts this year. The orders were confirmed immediately and shipped very quickly. They arrive with clear instructions, and a link for video instructions is sent that I will share with those who receive them as gifts. I love falling asleep catching up with podcasts, music or audible books. Super comfy and excellent sound."—D. Katt.
Some listening tips: If you want to repeat any of these videos, just right click on the video player and select Loop. And make sure to turn off autoplay so you're not jolted awake by the ads or sounds on the next video.
Calming Carols
Christmas carols never fail to bring magic and childlike wonder. Listen to these classic melodies played only to the most relaxing tempos and instruments.
Holly Jolly Tunes
Want to chill out during the holidays—without falling asleep? Bring delight to any holiday tradition with these videos, whether you're wrapping presents, building gingerbread houses, or decorating the tree.
Beloved Movie Music
The best holiday nostalgia involves sitting in front of a TV in your pajamas, waiting for your favorite show to broadcast. So why not honor tradition, wear some pajamas for your ears, and listen to original or fan-made movie music?
Home Alone Christmas Party Ambience

When a cardboard cut-out of Michael Jordan gets together with a quartet of mannequins, you know just what kind of party to expect. Calmed By Nature recreated Home Alone's famous scene—but from the burglars' point of view. Listen to the muffled jazz music as it emanates from the McCallister house… and consider circling the block again in your plumber's van tomorrow.

The channel has other videos in the "Christmas Music From Another Room" series. One puts you outside a charming farmhouse and another outside a church choir concert.
Hogwarts Great Hall

Enjoy a magical evening in the Great Hall of Hogwarts. Ambient Worlds brings this enchanted castle to life with holiday-themed music from the Harry Potter movies and video games.

Chronicles of Narnia Winter Woods Music & Ambience

Taken from the film adaptation of C. S. Lewis's famous series, this calming music enriches the stunning ambience of a winter forest. Revisit the world of Narnia in this video, and hope that if the White Witch does catch you, she'll have some Turkish delight prepared.

The Chronicles of Narnia Relaxing Ambient & Music

This fan-made music is for people who love the world of Narnia but who don't want to listen to the movie's soundtrack. French musician William Maytook perfectly captures the magic of this universe by combining his original compositions with natural ambience.
Winter Soundscapes
Enjoy winter wonder—without all the pesky holiday tunes. These videos will have you soaring over mountains and valleys as you listen to calming classical compositions.
Natural Ambience
The weather outside may be frightful. But if these ambient videos are any indication of how relaxed you'll be, you might as well let it snow.
Alluring ASMR
Watch these holiday-themed ASMR roleplays and triggers. With so many stories and decorations surrounding this time of year, you'll likely find something that helps you relax.
Soothing Sleep Aids
Is the stress of the holiday season keeping you up at night? Try these meditations, binaural beats and bedtime stories the next time you need to decompress.