SleepPhones Wireless Breeze Declared a 'Travel Essential' by World Bride Magazine
SleepPhones Wireless Breeze, our bluetooth headphones in a headband product, has been named a 'travel essential' by World Bride Magazine in their Spring 2015 issue.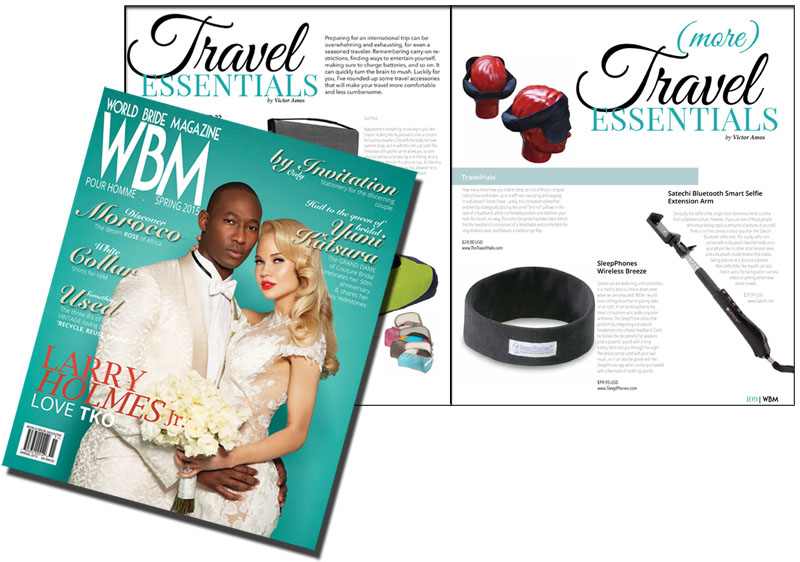 Preparing for an international trip can be overwhelming and exhausting, for even a seasoned traveler. Remembering carry-on restrictions,finding ways to entertain yourself, making sure to charge batteries, and so on. It can quickly turn the brain to mush. Luckily for you, I've rounded-up some travel accessories that will make your travel more comfortable and less cumbersome.
SleepPhones Wireless Breeze
Silence can be deafening, and sometimes, it is hard to shut our brains down, even when we are exhausted. While I would love nothing more than to put my radio on at night, it can be disruptive to my travel companions who prefer a quieter ambiance. The SleepPhone solves that problem by integrating a Bluetooth headphone into a fleece headband. Don't be fooled–the deceptively flat speakers pack a powerful punch with a long battery life to last you through the night. The device can be used with your own music, or it can also be paired with the SleepPhones app which comes pre-loaded with a few tracks of soothing sounds.

$99.95 USD

AcousticSheep LLC © 2023 All Rights Reserved.