SleepPhones @ featured on TODAY with Kathie Lee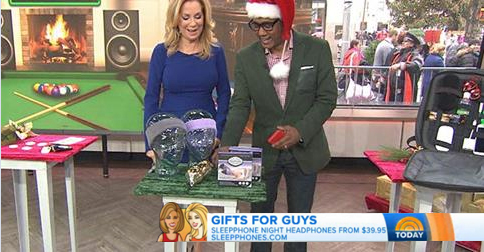 Mario Armstrong presents SleepPhones® on TODAY with Kathie Lee for a Holiday Gift Guide: 16 presents for the guys in your life.
SleepPhones were one of the top 5 tech gifts! Dec. 10, 2014

Mario Armstrong stopped by The TODAY Show to visit Kathie Lee to share some of his ideas for the holiday gift guide. SleepPhones® Wireless and SleepPhones® Classic were some of his recommendations!

This is the video transcript.

Mario: "These are SleepPhones. I love these, because these connect to your phone either wired or wirelessly. And there's mini speakers inside of the soft fleece headband. So you can listen to audiobooks, but you could also just listen to some white noise or if your partner is a snorer this is great for you."

Kathy Lee: "Thank you Mario, something for Momma."

Here is the excerpt from the post:

This is one of the greatest gifts for under $100 for someone who is looking to block everything out and rest. The removable speakers in a machine-washable headband let you listen to your favorite music or lull you to sleep with tranquil sounds.

We saw a huge spike in our website traffic. We broke our all-time daily sales record for the third time this Christmas Season. It's CRAZY here at the warehouse!

Looks like Kathie Lee Gifford will be using SleepPhones!!! Celebrity hit!

AcousticSheep LLC © 2023 All Rights Reserved.