SleepPhones® Simple Featured on SoCal City Kids
SoCal City Kids is the place where Family Fun Rules! Looking for a fun local event or learn about a cool product for your family? This is the website to visit!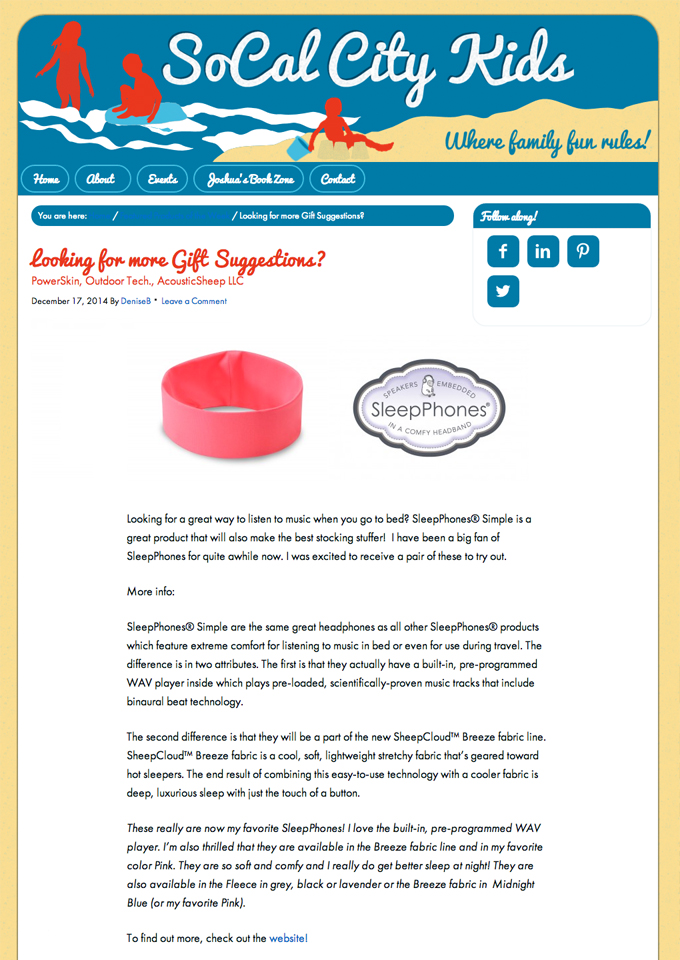 Looking for a great way to listen to music when you go to bed? SleepPhones® Simple is a great product that will also make the best stocking stuffer! I have been a big fan of SleepPhones for quite awhile now. I was excited to receive a pair of these to try out.

More info:

SleepPhones® Simple are the same great headphones as all other SleepPhones® products which feature extreme comfort for listening to music in bed or even for use during travel. The difference is in two attributes. The first is that they actually have a built-in, pre-programmed WAV player inside which plays pre-loaded, scientifically-proven music tracks that include binaural beat technology.

The second difference is that they will be a part of the new SheepCloud™ Breeze fabric line. SheepCloud™ Breeze fabric is a cool, soft, lightweight stretchy fabric that's geared toward hot sleepers. The end result of combining this easy-to-use technology with a cooler fabric is deep, luxurious sleep with just the touch of a button.

These really are now my favorite SleepPhones! I love the built-in, pre-programmed WAV player. I'm also thrilled that they are available in the Breeze fabric line and in my favorite color Pink. They are so soft and comfy and I really do get better sleep at night! They are also available in the Fleece in grey, black or lavender or the Breeze fabric in Midnight Blue (or my favorite Pink).

AcousticSheep LLC © 2023 All Rights Reserved.