SleepPhones® featured in USA Today's Road Warrior Voices September 2015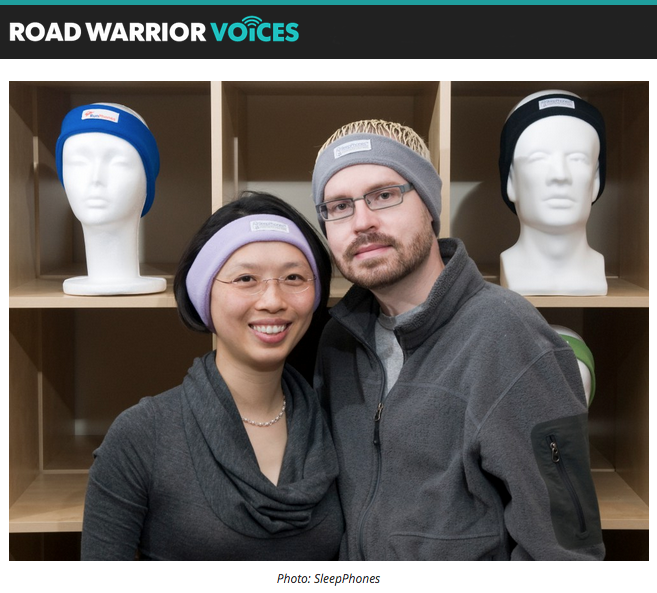 These jackets, shoes, and shirts pull double duty as travel gadgets
By Jessica Festa September 2, 2015 8:30am
Wearables are they way of the future, and are changing travel in a big way — including our personal style. The clothing of the future will be as smart as our iPhones, essentially turning road warriors into human tech devices and gadgets. These are a few of our favorites.
Live Comfy ($199; $99 early bird on Kickstarter) This Kickstarter project — a fitted jacket that charges your phone, plays music and is controlled by an app — is great for those jumping on the wearables bandwagon. Additionally, hidden zippers help road warriors stay safe, while concealed air chambers inflate the hood and turn it into a pillow. It also has a USB port and audio jack, allowing you to listen to music wirelessly or charge your mobile devices on the go.
SolePower EnSoles ($199.99) Travelers can explore their destination while charging their gadgets with energy-harvesting shoe insoles. A one-hour walk equates to 2.5 hours of battery life, which is stored in an external power pack on the shoelaces.
Sleeper Scarf ($55-$65) For those who hate lugging around a neck pillow, you could try the Sleeper Scarf instead. The scarf actually has a built-in neck pillow and, when you're ready to go from stylish to snoozing, simply inflate it with your mouth.
PoloTech Shirt ($295) For men (and soon women) looking for designer workout duds with a tech twist, Ralph Lauren's PoloTech Shirt uses built-in sensors to record your heart rate, breathing, steps taken and calories burned, with data and suggestions for future workouts stored in the linked smartphone app. Other brands creating smartwear for travelers wanting to stay in shape on the road include Heddoko (still in development), Hexoskin ($379+) and Athos ($348+).
MUSE Headband ($299). Business travelers — and road warriors in general — deal with a lot of stress, which is where the MUSE Headband comes in, measuring brain activity to help people meditate better. Guided by an app, it lets you know when your mind is wandering to help you get back on track and records your calm mind progress over time, so you can view and improve your ability to chill.
SleepPhones ($39.95+) If you'd rather sleep than meditate, SleepPhones embed slim headphones into a soft fleece headband. You can listen to music, audio books, nature sounds— anything coming from a device with a 3.5mm audio jack or just use them to block out excess noise. There's also a built-in microphone for phone calls, or you can upgrade to the wireless SleepPhones ($99.95) to pair with Bluetooth devices.
HYBRID Alpenlore Adventure Belt ($69 early bird) This Kickstarter accessory is both a belt and a survival kit, equipped with up to 50 feet of high tensile cord, high impact resistant buckles, and survival kit items within like matches and a striker, ferrocerium rod for making sparks, a surgical blade and fish hooks as well as a guide on how to use these tools (which is great for those of us who have no idea what a ferrocerium rod is).
IOAN Faja ($19) This garment is designed by the indigenous Mapuche in Argentina in collaboration with Industry of All Nations, meant to symbolize the sacred and protective double-headed serpent. The accessory works as a camera strap, tie, accessory or a buckle-less belt, making it easier to fly through airport security. Road warriors focused on sustainable tourism will also like the fact it's made from organic cotton and natural dyes.
BauBax Jacket ($129+, pre-order) BauBax's current Kickstarter campaign is blowing up, raising $7.2 Million and counting before launch (the original goal was $20,000). The smart jacket which comes as a windbreaker, bomber, blazer or sweatshirt boasts 15 features, like a built-in neck pillow, eye mask, gloves, microfiber cloth and blanket, a zipper that doubles as a pen and pockets dedicated to holding everything from tech gadgets to drinks to documents. It's essentially a carry-on in itself.
10. RXACTIVE ($89 pre-order, regularly $129) One item to add to your portable workout gear packing list is the RXACTIVE resistance activewear. These full length leggings, 3/4 pants and shorts (and soon-to-be-tops) come with built-in resistance bands to activate leg muscles and burn up to 14% more calories, according to the company. You can wear them on their own or as undergarments under your normal clothing.
What's your favorite garment/travel gear item?

Jessica Festa is the founder on the solo and offbeat travel blog, Jessie on a Journey, and the online responsible tourism and culture magazine, Epicure & Culture. She's constantly searching for local experiences beyond the guidebook. You can follow her travels on Facebook, Twitter and Instagram.

AcousticSheep LLC © 2023 All Rights Reserved.