SleepPhones® featured in Trazee Travel August 2015
SleepPhones® featured in Trazee Travel August 2015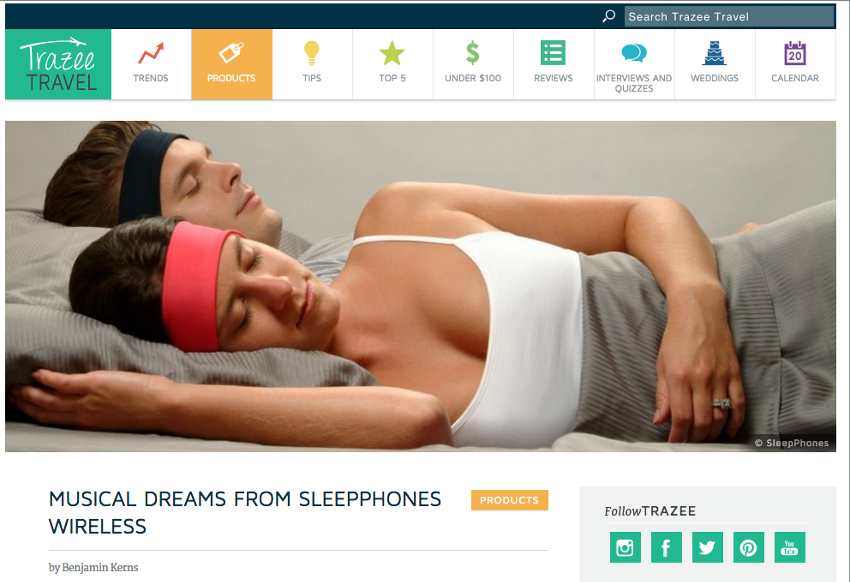 Anyone who has trouble getting to sleep on a plane or in a strange hotel and could use the help of a little soothing music need not fret any longer. SleepPhones® Wireless is a pretty revolutionary, yet simple, product that allows you to comfortably wear headphones sitting up or lying down.

Shaped like a regular headband, these things are actually hiding Bluetooth® headphones within patented SheepCloud™ Fleece or SheepCloud™ Breeze fabrics. It's so fluffy and soft you'll barely notice it's there. Seriously, we tried it.

It's syncs with any Bluetooth®-compatible device, whether that be a laptop, smartphone or tablet and can work from as far as 15 to 30 feet depending on the area. It contains built-in volume and play/pause buttons, charges through a USB slot and emits low, safe RF emissions. The battery charges in roughly three hours.

The speakers are removable, so you can wash the headband at any time. You can download the free companion app and get complimentary soothing downloads when you purchase the device. Without earbuds, the headband is able to eliminate pain and discomfort while sleeping while also blocking out potentially bothersome sounds around you.

The band currently comes in five different color options and retails for $99.95. Learn more at sleepphones.com.

AcousticSheep LLC © 2023 All Rights Reserved.