SleepPhones® Featured by Dr. Wei-Shin Lai on Assisted Living Today
Assisted Living Today is a trusted source of information on variety of topics related to senior care and assisted living.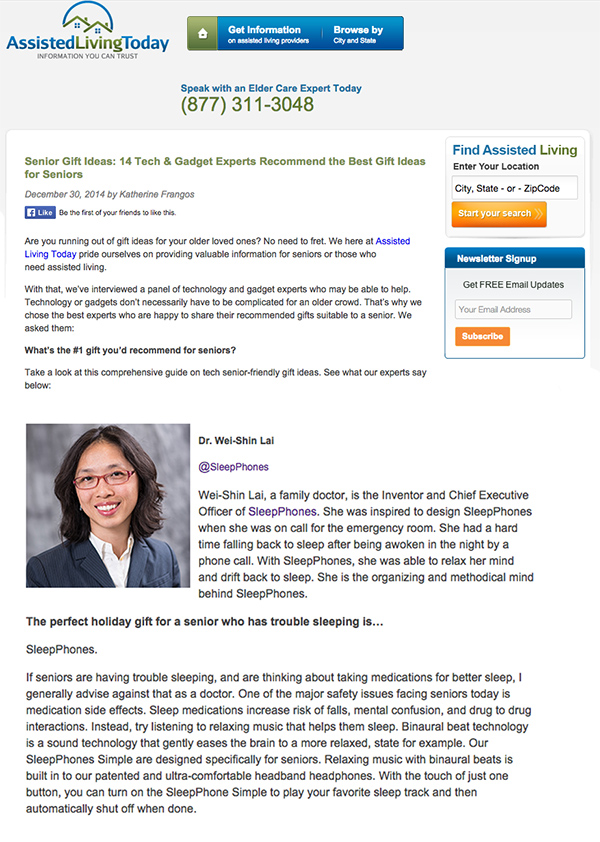 what the gift you recommend for seniors take a look at this comprehensive guide on tech senior-friendly ideas see what our experts say below.
Dr. Wei-Shin Lai, a family doctor, is the inventor and Chief Executive Officer of SleepPhones. She was inspired to design SleepPhones when she was on call for the emergency room. She had a hard time falling back to sleep after being awoken in the night by a phone call. With SleepPhones, she was able to relax her mind and drift back to sleep. She is the organizing and methodical mind behind SleepPhones.
The perfect holiday gift for a senior who has trouble sleeping is...
SleepPhones

If seniors are having trouble sleeping, and are thinking about taking medications for better sleep, I generally advise against that as a doctor. One of the major safety issues facing seniors today is medication side effects. Sleep medications increase risk of falls, mental confusion, and drug to drug interactions. Instead, try listening to relaxing music that helps them sleep. Binaural beat technology is a sound technology that gently eases the brain to a more relaxed, state for example. Our SleepPhones Simple are designed specifically for seniors. Relaxing music with binaural beats is built in to our patented and ultra-comfortable headband headphones. With the touch of just one button, you can turn on the SleepPhones Simple to play your favorite sleep track and then automatically shut off when done.

AcousticSheep LLC © 2023 All Rights Reserved.