Mario Armstrong reveals his tech must haves, from Kindles to sleep headphones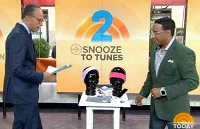 Mario Armstrong stopped by TODAY on Sunday to share three of the most important new tech items and apps to simplify your life. From sharing e-books with your family to headphones that help you sleep better, here are his recommendations.

Do you have trouble falling asleep? I travel a lot with my career, and falling asleep sometimes is almost impossible — on planes, trains and in hotel rooms, there's constant noise! Plus, when you need to sleep before a big event but you just can't turn off your brain it's hard to find a solution that works.

SleepPhones are my cure — I LOVE these! SleepPhones are headphones tucked in this incredibly soft headband so you can be lulled to sleep by your favorite tunes or calming sounds without the hassle of earbuds falling out of your ears. I swear by mine!

Try one of Mario's Top 3!

AcousticSheep LLC © 2023 All Rights Reserved.