AcousticSheep LLC Mentioned in Erie Reader
The Erie Reader is the local voice for news, arts and culture in Erie, PA.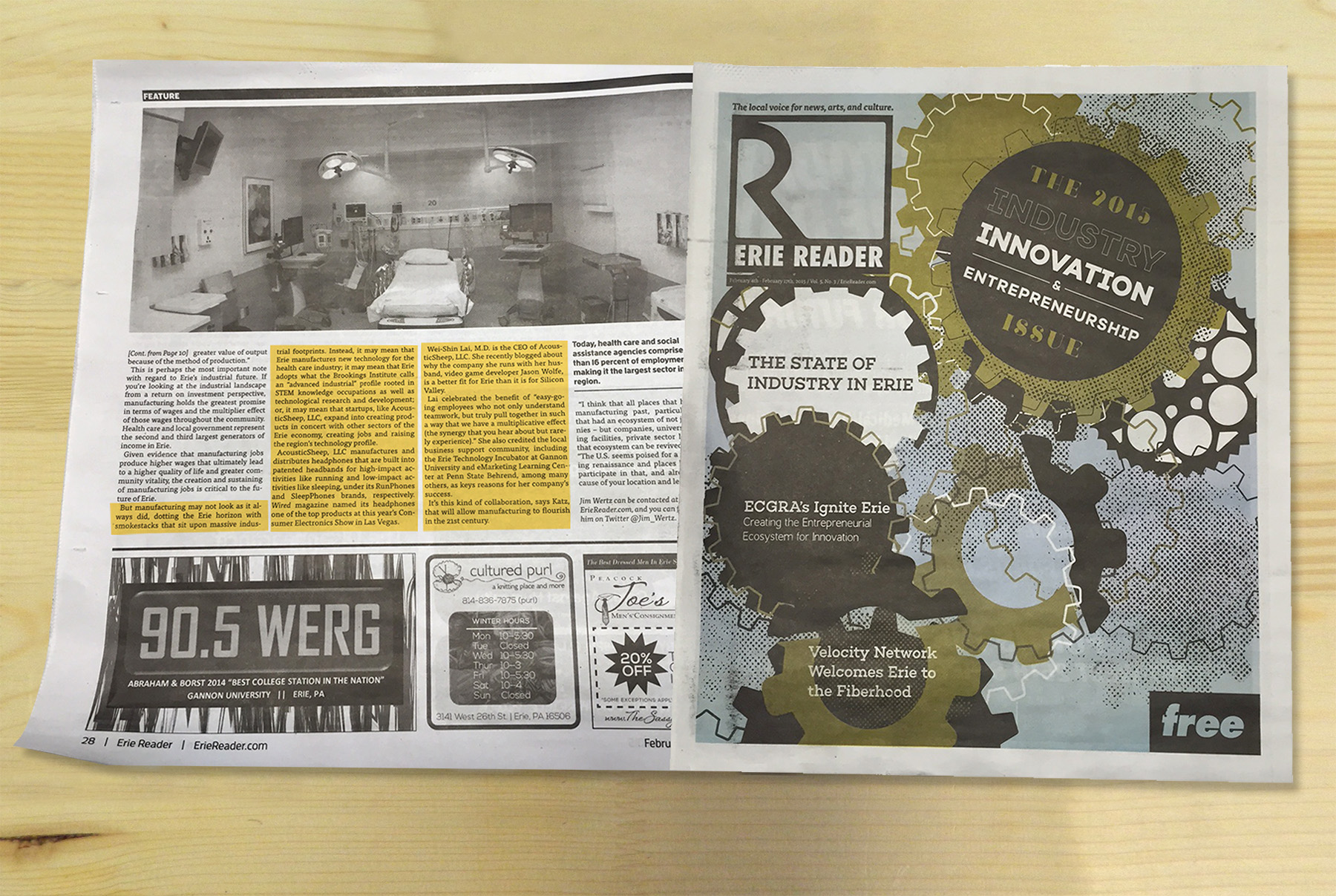 The Erie Reader article, The State of the Erie Industry mentions AcousticSheep LLC and Dr. Wei-Shin Lai.

But manufacturing may not look as it always did, dotting the Erie horizon with smokestacks that sit upon massive industrial footprints. Instead, it may mean that Erie manufactures new technology for the health care industry; it may mean that Erie adopts what the Brookings Institute calls an "advanced industrial" profile rooted in STEM knowledge occupations as well as technological research and development; or, it may mean that startups, like AcousticSheep, LLC, expand into creating products in concert with other sectors of the Erie economy, creating jobs and raising the region's technology profile.

AcousticSheep, LLC manufactures and distributes headphones that are built into patented headbands for high-impact activities like running and low-impact activities like sleeping, under its RunPhones and SleepPhones brands, respectively. Wired magazine named its headphones one of the top products at this year's Consumer Electronics Show in Las Vegas.

Wei-Shin Lai, M.D. is the CEO of AcousticSheep, LLC. She recently blogged about why the company she runs with her husband, video game developer Jason Wolfe, is a better fit for Erie than it is for Silicon Valley.

Lai celebrated the benefit of "easy-going employees who not only understand teamwork, but truly pull together in such a way that we have a multiplicative effect (the synergy that you hear about but rarely experience)." She also credited the local business support community, including the Erie Technology Incubator at Gannon University and eMarketing Learning Center at Penn State Behrend, among many others, as keys reasons for her company's success.

It's this kind of collaboration, says Katz, that will allow manufacturing to flourish in the 21st century.

AcousticSheep LLC © 2023 All Rights Reserved.