SleepPhones® Featured in Spiele Filme Technik Magazine in Germany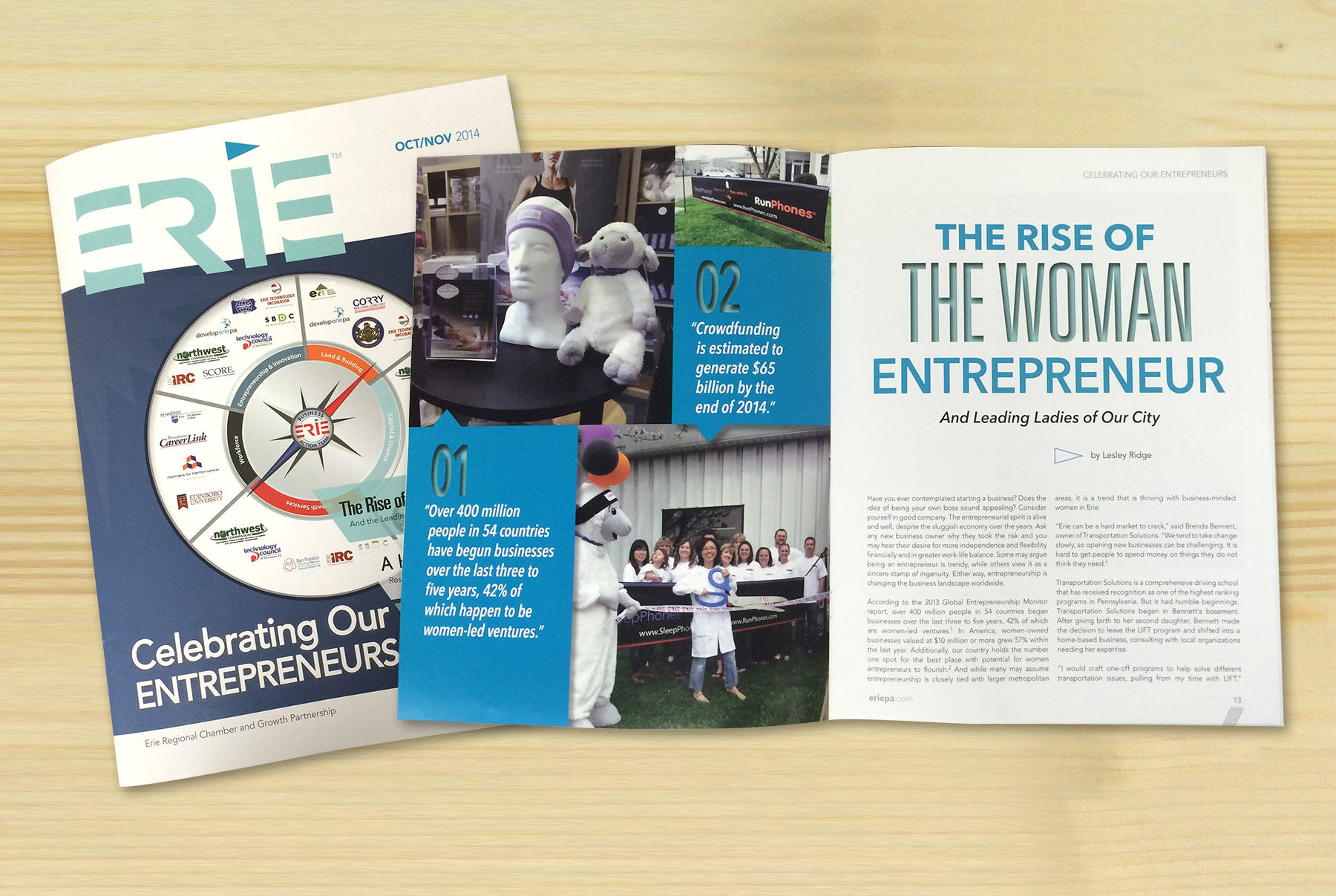 ERIE Magazine article "The Rise of The Woman Entrepreneur" features AcousticSheep's CEO, Dr. Wei-Shin Lai along with other local woman entrepreneurs.

"Owning a business wasn't on my radar," said Dr. Wei-Shin Lai. "I loved medicine and helping people. No one goes to medical school with the intent of leaving and starting a business."

But that is exactly what happened. Lai and her husband Jason Wolfe, founded AcousticSheep LLC out of their home in State College.

"At the time, I was on call and would often receive patient calls late at night," said Lai. "One night, I had difficulty falling back to sleep, so my husband suggested listening to something. Not wanting to disturb him, I tried using headphones, but was disappointed by how uncomfortable they were."

After a few nights around the kitchen table, Lai and her husband had a prototype for what would become AcousticSheep's first product - SleepPhones. "Think pajamas for your ears," said Lai.

SleepPhones are thin speakers wrapped in soft fleece material, worn around one's head much like a headband. The product is designed to deliver sound without the disruption and discomfort of an object directly in the ear. " I wore my SleepPhones outside shoveling in the snow and a few customers commented it was great for winter, but they would like something lighter for running in warmer weather," said Lai. "We researched, found a more lightweight material that was moisture-wicking, and started producing RunPhones."

Demand begets growth, and in less than a year after the initial concept, the company launched its second product. Lai and her husband (and now business partner), acknowledged the need to expand into a warehouse that could process orders for SleepPhones and RunPhones. They found space within EBCO Park to accommodate production and in May of 2014 moved the entire business from State College to Erie. Since moving to Erie, AcousticSheep hired marketing and warehouse teams - a needed, but calculated move for the business.

"I think one piece of advice I would give entrepreneurs is to start small and invest not just financially, but invest in doing the research necessary to determine if a market exists," advised Lai. "We would not call ourselves risk takers by nature and ran what we could out of our home for as long as possible. I think seeking honest feedback and really listening to what our customers wanted served us well."

AcousticSheep LLC © 2023 All Rights Reserved.