AcousticSheep® featured in Lake Erie LifeStyle
Lake Erie LifeStyle — Enterprising Entrepreneurs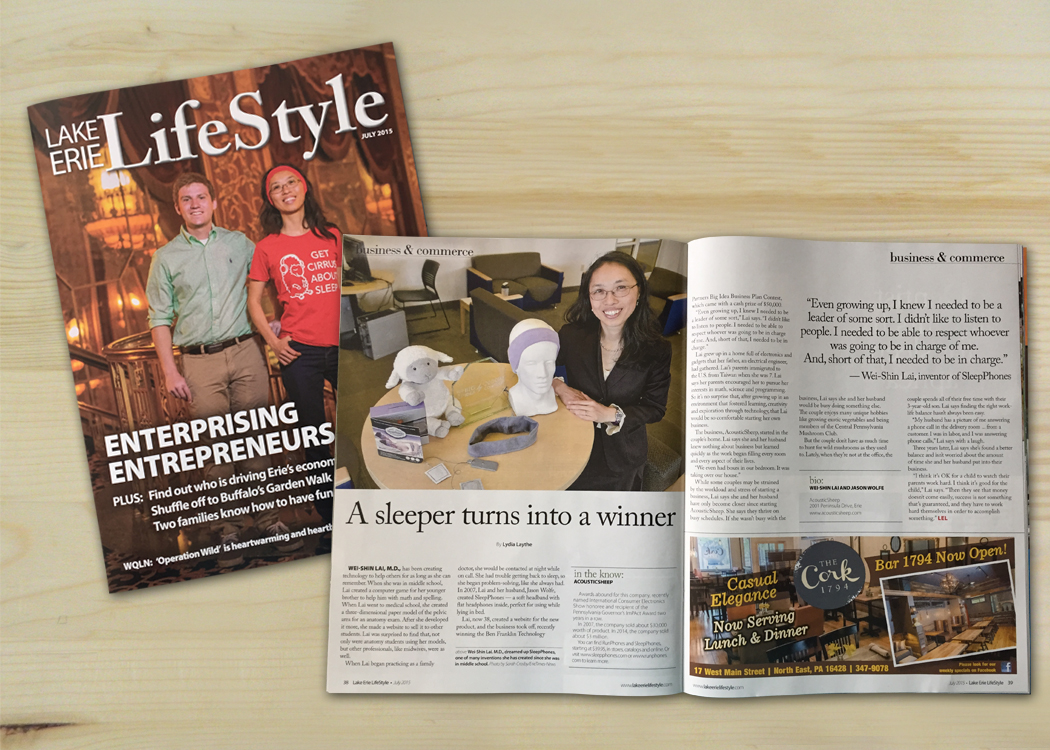 July 2015
A sleeper turns into a winner
Wei-Shin Lai, MD., has been creating technology to help others for as long as she can remember. When she was in middle school, Lai created a computer game for her younger brother to help him with math and spelling. When Lai went to medical school, she created a three-dimensional paper model of the pelvic area for an anatomy exam. After she developed it more, she made a website to sell it to other students. Lai was surprised to find that, not only were anatomy students using her models, but other professionals, like midwives, were as well.

When Lai began practicing as a family doctor, she would be contacted at night while on call. She had trouble getting back to sleep, so she began problem-solving, like she always had. In 2007. Lai and her husband, Jason Wolfe, created SleepPhones — a soft headband with flat headphones inside, perfect for using while lying in bed.

Lai, now 38, created a website for the new product, and the business took off, recently winning the Ben Franklin Technology Partners Big Idea Business Plan Contest, which came with a cash prize of $50,000.

"Even growing up, I knew I needed to be a leader of some sort," Lai says. "I didn't like to listen to people. I needed to be able to respect whoever was going to be in charge of me. And, short of that, I needed to be in charge."

Lai grew up in a home full of electronics and gadgets that her father, an electrical engineer had gathered. Lai's parents immigrated to the U.S. from Taiwan when she was 7. Lai says her parents encouraged her to pursue her interests in math, science and programming. So it's no surprise that, after growing up in an environment that fostered learning, creativity and exploration through technology, that Lai would be so comfortable starting her own business.

The business, AcousticSheep, started in the couple's home. Lai says she and her husband knew nothing about business but learned quickly as the work began filling every room and every aspect of their lives.

"We even had boxes in our bedroom. It was taking over our house."

While some couples may be strained by the workload and stress of starting a business, Lai says she and her husband have only become closer since starting AcousticSheep. She says they thrive on busy schedules. If she wasn't busy with the business, Lai says she and her husband would be busy doing something else. The couple enjoys many unique hobbies like growing exotic vegetables and being members of the Central Pennsylvania Mushroom Club.

But the couple don't have as much time to hunt for wild mushrooms as they used to. Lately, when they're not at the office, the couple spends all of their free time with their 3-year-old son. Lai says finding the right work-life balance hasn't always been easy.

"My husband has a picture of me answering a phone call in the delivery room... from a customer. I was in labor, and I was answering phone calls," Lai says with a laugh.

Three years later, Lai says she's found a better balance and isn't worried about the amount of time she and her husband put into their business.

"I think it's OK for a child to watch their parents work hard. I think it's good for the child," Lai says. "Then they see that money doesn't come easily, success is not something that's guaranteed, and they have to work hard themselves in order to accomplish something."

AcousticSheep LLC © 2023 All Rights Reserved.