Having Winter Woes? Here are 4 Ways SleepPhones® Headphones Can Improve Your Mood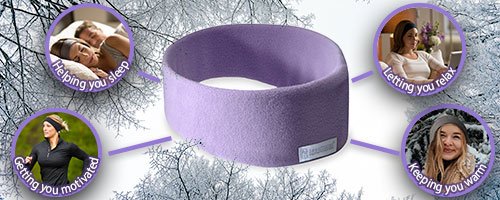 Of all the seasons, winter is the least favorite by far. In a 2021 poll of 15,000 American adults, analytics group YouGov found that a relative majority of people dislike January and February the most.
It's not hard to see why. After the new year rolls around, we don't have many holidays to look forward to. The days are short and cold, leaving us with few reasons to go out in the daylight.
But lack of motivation leads to lack of purpose. If sustained for long enough, this can lead to depression—more specifically, seasonal affective disorder.
If you're struggling with winter woes, SleepPhones® headphones can help. Even though we cannot fast-forward through the calendar, our refreshingly simple idea will make this time of year more exciting. Here's how.
"I have recently been on an antidepressant that in low doses, is supposed to help you sleep, and it worked okay, for a while. I don't want to be taking more pills. I saw a Groupon® for SleepPhones® and was interested enough to look at the website, and then order it. I'm stunned by how well this works—once I got used to it, I woke up feeling I'd slept better than I have in literally years. I have for a long time awakened in the morning feeling just as tired as I did when I went to sleep. The SleepPhones® have helped me to get the rest that will allow me to actually feel refreshed and as if I've gotten some actual sleep. The difference is so great that I almost can't believe it." — Elise Wormuth
1. Helping you Sleep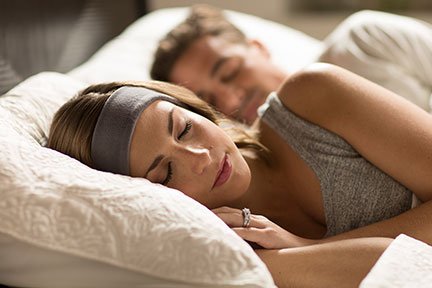 If the winter months are making you feel down, then it is likely that you are also having sleep problems. Seasonal affective disorder and insomnia are interrelated. Feeling hopeless can keep you up at night, and lack of sleep can make you feel even worse about yourself. Plus, staying in your bed all the time, even if it's just to keep warm, can really mess up your natural rhythms and make you feel even more depressed. It's time for the cycle to stop. But no matter how much you try, falling asleep with traditional earbuds and headphones does not work. They either hurt the inside of your ears or make it impossible for you to find a comfortable position. SleepPhones® headphones are the best solution for all these problems—and more.
Designed by a family doctor, SleepPhones® headphones help you fall asleep to any of your favorite sounds. You no longer have to worry about uncomfortable plastics, rubber and metal getting in the way of your quality rest. Our ultra-thin, high-quality speakers let you rest against the pillow without irritating your ears. And our soft, pliable headband lets you easily adjust the components to fit your head shape.
Get your sleep back this winter, and be on your way towards feeling better again. Looking to do more with SleepPhones® headphones? Then continue reading.
"Absolutely life-changing product! I have sleep issues, as well as suffering depression and occasional bouts of anxiety… Previously I'd tried using earbuds, but those proved too painful to wear while sleeping. Having headphones that are comfortable enough to sleep in, and also are of high enough quality[,] … is just phenomenal!" — Randy Clark
2. Letting you Relax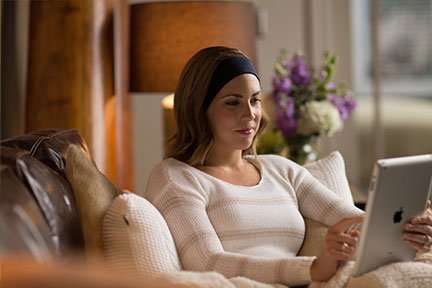 It's frustrating to buy headphones that have a short battery life or pair with just one app. Shouldn't the usability of your headphones be just as important as comfort?
We think so. With SleepPhones® headphones, you can instantly tune into your favorite music, sounds, audiobooks, podcasts, guided meditation, ASMR, and more! And with 10–12 hours of battery life, you'll have more than enough time for activities other than sleep.
So when you're feeling anxious during the winter, wear SleepPhones® headphones. Listen to music while reading a book. Immerse yourself in video games. Watch movies, videos, and shows on your television or other devices.
When you're done, either plug the Bluetooth® module into the wall or leave it on the charging base. After 2–3 hours, they'll be good to go!
To opt out of the battery entirely, purchase our Classic edition. And if you want to avoid the stress of finding something to listen to, look at our Simple and ASMR editions.
"Because SleepPhones® are so comfortable, I am not even aware that I am wearing them. They are more comfortable than I expected. The audio quality is excellent. I can truly relax and enjoy my audiobooks without any distractions. It's the adult version of being read a bedtime story. It works! I no longer take sleep aids—what a relief!" — Lee W.
3. Getting you Motivated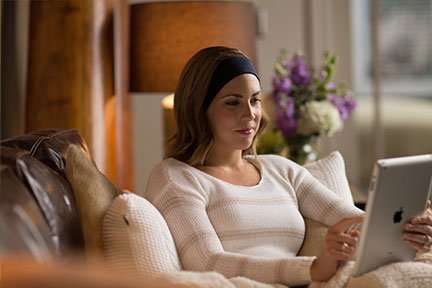 It's easy to become complacent when we're "snowed in" for the winter. Lack of activity dampens our mood, so what can we do to boost our motivation?
Listening to music is often the best cure for lack of energy. And SleepPhones® headphones with Breeze SheepCloud™ Fabric can help get you active—without all the uncomfortable sweating. Our proprietary fabric is breathable, comfortable, durable, and moisture-wicking, making it perfect for both exercisers and hot sleepers.
Whenever you're feeling down, you should get moving. If you're stuck inside, try exercising, dancing, stretching, and doing yoga. Even finishing chores around the house, like mopping the floor, washing dishes or folding laundry, will bring you a sense of accomplishment. And by listening with SleepPhones® headphones, you'll be keeping your mind engaged, too.
Then, when you're done, throw your headband in with the laundry. All our headbands come pre-shrunk and machine washable. And for a sleek workout experience, choose RunPhones® headphones—complete with a range of dynamic colors.
"Reunited w[ith] these in 2018 and it feels so g00d. Perfect for skiing/snowboarding and[/]or anytime I need to be outdoors with winter[.] 10/10[.] sound quality is surprisingly good. Not an ad, I just love these s[o] m[uch]..." — @Ad0rebel
4. Keeping you Warm
"Snow days" don't all have to be spent indoors. Building a snowman, having a snowball fight, or drinking hot chocolate on the porch are all great excuses for going outside. Even going for a walk can help keep you active while getting vitamin D and fresh air.
But our ears are often the first thing to get cold. Luckily, SleepPhones® headphones also come with Fleece SheepCloud™ Fabric. This soft, luxurious fabric will keep your head cozy while you go out into that winter wonderland. Plus, the headband is flat enough that you can wear it under a beanie or a hat.
In high altitudes or latitudes, our Fleece fabric is a must. Whether you're a cool sleeper or someone who lives where it's cold, you'll love wearing this fabric year-round. So if you go out skiing, snowboarding, hiking, camping or chopping wood, be sure to take them with you.
"I was skeptical but I purchased them online a few weeks ago for my trip to Iceland. I was hoping that [if] the SleepPhones® did not work, I would be too tired to care[,] but [that was] not the case. … OMG They are soft and comfortable… and I was afraid they might be too warm since they are fleece[,] but they were just right. [I]t is the most amazing product." — Becky C.
Shop our Catalog
If you're looking to sleep better, ease down, stay motivated and keep warm during this winter, SleepPhones® headphones are the solution for you.
So what are you waiting for? Discover winter wonder with SleepPhones® headphones. Share them with friends and family. Enjoy versatility, comfort and quality beyond comparison.
If you're experiencing seasonal affective disorder, SleepPhones® headphones are great when combined with other forms of therapy. Be sure to talk to your doctor about what treatment is right for you.
All product and other information obtained through or presented on the site is for informational purposes only. Consult a qualified healthcare professional for specific information about any personal care, healthcare or medical needs. Both the products provided through and the information provided on the site are not intended to substitute in any manner for medical treatment, medical advice, or medical diagnosis by a doctor or other healthcare professional. Do not forgo, change or stop any tests or treatments that have been prescribed or recommended by any of your healthcare provider(s) without first consulting with your healthcare provider(s). Do not rely on any product you receive through or any information you receive from the site when making any personal care, healthcare or medical decision, including but not limited to any decisions about treatment, testing, diagnosis or follow up.