Music to sleep better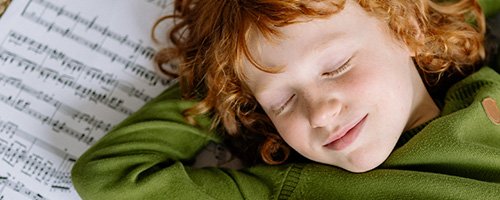 There's a reason moms the world over sing lullabies at bedtime. Music can help you drift off to a good night's sleep. Listening to songs of about 50-60 beats per minute allows your brain to slow down and relax, helping you to fall asleep more easily. Here are a few recommendations for songs to listen to the next time you're struggling to drift off to dreamland. Load your mp3 player, slip on your SleepPhones and fall asleep quickly.
Goldberg Variations

by Johann Sebastian Bach — Classical songs have long been recommended to help with insomnia. In fact, Bach wrote Goldberg's Variations particularly for a Count who had difficulty sleeping. The song worked wonders for the Count, and the serene, soothing harpsichord melody continues to help individuals get to sleep and sleep better today.

Moonlight Sonata

by Ludwig Van Beethoven — This classic, comforting melody is ideal for letting your brain to relax. Close your eyes and listen to the flowing piano rhythm and well-known broken chord intro of this gorgeous sonata, and you'll be well on your way to a restful night of sleep. Also recommended: Beethoven's Piano Concerto No. 5.

Canon in D Major

by Johann Pachelbel — Numerous versions of this song have been written for the piano, symphonic orchestras and string instruments, but the original version has also withstood the test of time. Played on three violins, the original piece is slow and uncomplicated with the three instruments coming together to build a robust yet comforting and simple melody that is perfect for falling asleep fast.

Hallelujah

by Jeff Buckley — John Legend once referred to Jeff Buckley's remake of Leonard Cohen's original song as "as near perfect as you can get... It's one of the most beautiful pieces of recorded music I've ever heard." Written in the key of C major, the gorgeous melody, sung with Buckley's melancholy yet consoling voice is a good option when you cannot sleep.

Ambient 1: Music for Airports

by Brian Eno — Brian Eno has made his mark as one of the foremost composers of 'ambient music', music that focuses on sound patterns rather than a specific melody. Ambient music is often used to create a feeling of a certain atmosphere or state of mind. Ambient 1: Music for Airports is an entire album that will help your mind reach the perfect state of mind for a good night sleep.

Funeral

by Band of Horses — The acoustic guitar version of this indie rock band's song is the ideal tempo and rhythm for helping you reach a peaceful sleep. While slightly more up tempo, Band of Horse's song "Is There a Ghost," in which the lyrics actually begin with "I could sleep, I could sleep, I could sleep..." is another recommendation.

Soldier's Poem

by Muse — The alternative rock band is generally better known for their faster tempo, harder rock songs, but this lesser known arrangement is ideal for insomnia relief.

Eileen

by The Hush Sound — The piano melody throughout this indie quartet's song is what helps set it apart and what lands it on this list of recommendations.

Slow Dancing in a Burning Room

by John Mayer — Mayer spent time collaborating with remarkable blues artists such as Eric Clapton and B.B. King and that blues influence shines through in this song, making it perfect for drifting to sleep. The tone of Mayer's voice creates a sense of calm throughout this song and others such as "Gravity," "Waiting on the World to Change" and "Dreaming With a Broken Heart."

Sleep sounds

— While these may not fit the general definition of songs, sleep sounds filled with binaural sounds and tones allow the brain to relax using what is called brainwave entrainment.
Click here to download free binaural beat mp3s, including wave sounds, sizzling breakfast sounds and more, from SleepPhones.