Frequently Asked Questions
---
ORDERING AND SHIPPING INFORMATION

Having trouble placing an order?
Please email us at service@acousticsheep.com for assistance. You may also want to try opening the site in a different browser to see if that will alleviate the issue.
Would it be possible to place an order by telephone?
Yes! Our Customer Service Specialists are available at 877-838-4790, M-F 8-5 EST
Can I pay by check or money order?
Yes! To place your order, write down the product, size, color, and any extra items you would like. Total the order and please be sure to include the standard shipping charge of $5.00 USD. Please remember to include the shipping address and either an email address or phone number in case we have any questions about your order. Checks or money orders should be made out to AcousticSheep LLC and mailed to:
AcousticSheep LLC
2001 Peninsula Drive
Erie, PA 16506
Have not yet received any emails regarding your recent order?
After we process and ship your order (usually within 1-2 business days), you should receive an email with your order tracking information. If you did not receive an email with this information, please contact our Customer Service Specialists via email at service@acousticsheep.com or via phone at 877-838-4790, M-F 8-5 EST. Also, please be sure to add service@acousticsheep.com to your approved sender list and check your spam mail folder.
Have not yet received your order?
Most US customers will receive their orders within 7 to 10 business days. If you have yet to receive an email regarding order shipment confirmation, please contact us via email at service@acousticsheep.com or call us at 877-838-4790, M-F 8-5 EST. If you have received an email with a tracking number, you can check to see if it's still in transit at USPS tracking. If you have not received any emails, you may need to check your spam mail folder for emails. If it's unclear what has happened to your order, we can certainly help you find out!
Do you ship overseas?
Yes! We have shipped SleepPhones® to over 60 countries around the world on every continent including Antarctica! Please see our shipping page for more information.
How long does it take for an order to reach a customer overseas?
Typically, orders sent overseas arrive by first class mail within 1-5 weeks, but we cannot guarantee that. We ship SleepPhones® through the United States Postal service. Please visit their page for more information: USPS
Can SleepPhones® be purchased near me?
Currently SleepPhones® are found at a limited number of locations. Please view the following list for locations: SleepPhones® resellers.
---
SIZING AND HEADBAND CARE INSTRUCTIONS

How do I figure out what size to buy?


Almost everyone fits into the one size fits most. The headbands do stretch a bit, so if you are between sizes, we suggest going with the smaller size. Having the proper size headband, with a snug fit, is crucial not only for comfort but for sound, too. If the headband is too loose it will cause the speakers to move around. Our SleepPhones Headphones come in our signature SheepCloud™ Knitted Fabrics in two different blends. The fleece is 95% polyester and 5% spandex and the breeze is 88% polyester and 12% spandex. You can find a short demonstration video on how to find the proper size measurement on our site at: Sizing. If you order the wrong size, we would be happy to exchange it for you. Please find more information on our site at: Warranty
What are the care instructions for SleepPhones®?
We recommend that the headbands be washed occasionally to remove the build-up of oils, which causes the headbands to stretch and lose their proper fit. Please view our quick video for details on removing and reinserting the speakers: Care-instructions
Our SheepCloud™ fabric does not contain any animal and plant fibers that may cause an allergy problem. They are not treated with any fabric softeners or fire retardant chemicals.
Machine washable: any temperature is fine, but warm water is preferred
Fabric softener: not recommended, as it reduces the wicking properties that keep you comfortable at night
Bleach: not recommended
Machine dry: low heat preferred
Iron: do not iron, as the fabric will melt on high heat
Dry Clean: do not dry clean, as this increases flammability
Flammability: our fleece is much less flammable than other fleece on the market. A certificate for confirmation to the flammable fabrics act is available upon request.
---
SPEAKERS AND PRODUCT INFORMATION

What are the technical specifications for the speakers?
Wired version:
120cm (48") cord
3.5mm (1/8") stereo plug
Impedance: 32 Ω
Frequency: 20-20 kHz
Power: 300/500 mW
RoHS compliant (lead-free)
Wireless version:
Micro-USB plug
Impedance: 32 Ω
Frequency: 20-20 kHz
Power: 300/500 mW
RoHS compliant (lead-free)
Stereo
Are the speakers relatively flat?
The speakers are not completely flat, but are very thin discs that are enclosed in felt. The speakers are a special design made exclusively for us by a company that also makes high-end audiophile quality speakers. We cannot claim audiophile status, but most people are pleasantly impressed with the sound quality. Most people cannot feel them when sleeping on their side.
Are the right and the left speakers clearly marked?
The right side speaker has red stitching on the fabric square and the left side speaker has green stitching on the fabric square. It is necessary that the speakers be placed properly in the headband since they are stereo and play side specific sounds, which is very important if the user is listening to music utilizing binaural beats technology or any other recordings that have side specific tones. The speakers are moveable within the headband and can be moved in to proper position over each individual's ears. Please view this short video for more information regarding Speaker Placement.
Have there been different version of SleepPhones®?
Yes. They are slightly different. Please visit our SleepPhones® Generations page to see the different versions.
What is the current version of SleepPhones®?
Our latest Product now features our SleepPhones® tag in the back of the headband near the velcro opening.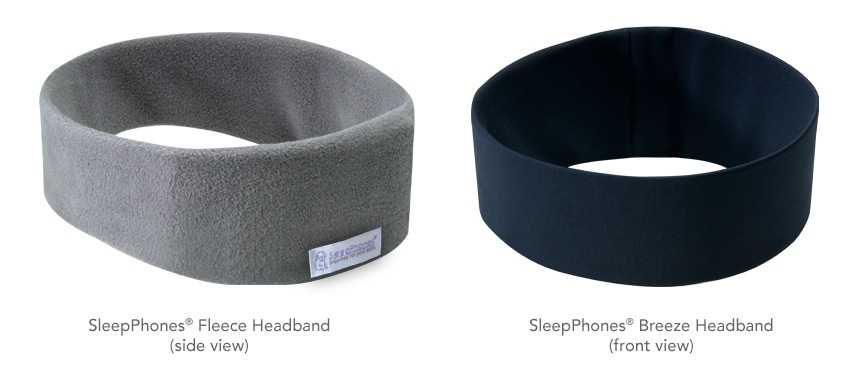 Colors: Midnight Black (fleece), Quiet Lavender (fleece) and Soft Gray (fleece) or Galaxy Blue (breeze) and Sunset Pink (breeze)
Band Material: Fleece fabric: 95% polyester, 5% spandex or Breeze fabric: 88% polyester, 12% spandex
Sizes: Extra Small, One Size Fits Most and Extra Large
Speakers: Are fully adjustable. Just shift them around within the headband for perfect placement
Washing: Headbands are machine-washable after removing the speakers through the velcro opening
---
WIRELESS INFORMATION

What are the pairing instructions?
Here is a link to a quick demonstration video on how to properly pair your Bluetooth® device:

If your module looks like this, please use the following link: ASL06 Pairing Video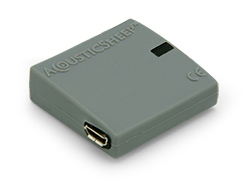 If your module looks like this, please use the following link: ASL03 Pairing Video
Quick tip for Android users: will need to check the box that allows the phone to search for new devices.
Quick tip for Samsung tablet users: may need to check the box in the Bluetooth® menu that starts the scan for new devices.
If you are unable to successfully pair SleepPhones® with your device, please contact our Customer Service Specialists via email at service@acousticsheep.com or via phone at 877-838-4790, M-F 8-5 EST We will be happy to help you troubleshoot the problem!
What is the difference between SleepPhones® Simple and SleepPhones® Wireless?
SleepPhones® Simple
• 17 pre-loaded tracks scientifically-designed with binaural beat technology
sleep sounds to help you fall asleep
• Rechargeable battery life: up to 20 hours
• Charging time: 3 hours
• Does not play music from other sources
SleepPhones® Wireless
• Easily pair/sync with smartphones, computers and most other
Bluetooth®-compatible devices
• Wireless range: 15-30 feet (5-10 meters) for easy connectivity
• Rechargeable battery life: up to 13 hours
• Charging time: 3 hours
---
COMPATIBILITY AND USAGE

What products are compatible with SleepPhones®?
Smartphones, iPods, MP3 players, computers, tablet, radios, CD players and noise machines will work with SleepPhones®. For the wired models, devices need to have a standard 3.5mm jack. To use the wireless model, devices must have Bluetooth® capability for pairing.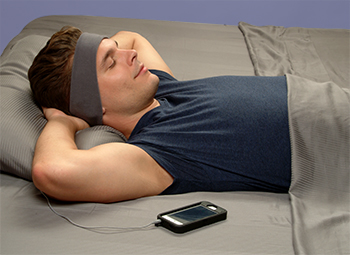 Do SleepPhones® mute external noises?
SleepPhones® were constructed to minimize ambient noises. Users listen to music or white noise to help them to relax, which enables them to fall asleep faster and helps to reduce background noises. However, the product does not have any external equipment to eliminate noise. SleepPhones® were designed to be noise blocking, not noise canceling.
Are binaural beats an effective way to sustain sleep?
Research on binaural beats shows that it is quite effective in inducing the frequencies associated with sleep in your brain.
When listening to soundtracks that utilize binaural beat technology, you may be aware of a soft humming which is actually the binaural beats. Try to not focus on the sound. Ideally, they should be barely audible when you listen to the soundtracks that the binaural beats are incorporated in to.
There are other factors that can impact binaural beats, such as Dolby technology or certain sound enhancements that your music player may use. Those technologies need to be turned off. Sometimes computers will read music files in different ways, and going from one medium to another using different file types and file compressions will also impact the binaural beats. We agree that it's a complicated technology. That's why we offer CDs that will definitely transmit the specific sounds you seek - as long as they are played on a CD player that does not distort the sounds with enhancements like Dolby.
We welcome you to do your own research online regarding binaural beats. We have heard from many very satisfied customers, and their comments are listed in the testimonials section of our website. Testimonials
Can you still hear an alarm clock while using SleepPhones®?
Yes, users will be able to hear an alarm clock. It will only be slightly muffled by the fabric around the ears. We feel that being able to hear a fire alarm or a child monitor in the middle of the night is important. SleepPhones® were designed to be noise blocking, not noise canceling.
Can SleepPhones® be used for purposes other than sleep?
Absolutely! Since the speakers have a full frequency response, SleepPhones® can be used to listen to music, meditation, hypnosis, self-improvement, biofeedback, audiobooks, or podcasts. They are a great travel companion!
Can SleepPhones® be used by someone who is hard of hearing or who uses hearing aids?
SleepPhones® can play music quite loudly, so user's can turn up the volume to compensate for mild hearing loss. For customers listening to music utilizing the binaural beats technology, the benefit may not work as well if the hearing loss is not the same in the left and right ears since the binaural beats are based on a stereo sound principle.
Many people with hearing aids have reported that SleepPhones® work well with them. However, SleepPhones® do not have the T-switch technology. Individual results will vary.
---
HEALTH AND SAFETY

Is it safe to use SleepPhones® Wireless Bluetooth® technology? What about EMFs?
In a word, yes. We feel confident that all of our products, including the SleepPhones® Wireless, are safe. SleepPhones® generate much much less EMF (electromagnetic fields) than cell phones, so the risk is minimal. Dr Lai has written an extensive reply to this question, which can be found at the following link: EMF
We want to point out that cell phones emit 200 times more power than the Bluetooth® chip that we use. So while the safety tips apply to cell phones, they do not apply to our Bluetooth® device. For Bluetooth® devices, the WHO (World Health Organization), CDC (Centers for Disease Control and Prevention), FCC (Federal Communications Commission), FDA (Food and Drug Administration), Bluetooth SIG (Bluetooth Special Interest Group) or IARC (International Agency for Research on Cancer) have not found it necessary to issue any safety advice.
How do I protect against hearing damage?
As with any headphones, you should not listen to sounds at a volume of 85 dB or higher. 85 dB is equal to the sound of a hairdryer or lawnmower. Studies show that you can tolerate only up to 8 hours a day of music at 85dB before risking hearing loss. For more information, please visit the following link: Decibels
---
EXCHANGES AND RETURNS, WARRANTY

Please visit our Exchanges and Returns page or our Warranty page for detailed information: Exchanges and Returns | Warranty
Is there a satisfaction guarantee?
Yes. We offer a full money-back guarantee excluding the shipping costs if the product was purchased from SleepPhones.com or RunPhones.com. If you are not satisfied for any reason, please let us know what we can do to correct the situation. We are always looking to improve our products so do not hesitate to contact us with suggestions. Please email us at service@acousticsheep.com
---
CONTACT US

To reach our Customer Service Specialists, please email service@acousticsheep.com or call 877-838-4790, 8-5 EST M-F. Please be sure to add service@acousticsheep.com to your approved sender list and check your spam mail folder if you do not receive a reply in 1-2 business days. To send us a fax, please use 877-838-4790.
Our mailing address is:
AcousticSheep LLC
2001 Peninsula Drive
Erie, PA 16506
USA
---
ABOUT ACOUSTICSHEEP LLC

Are you a green company?
We strive to be as eco-friendly as possible, with an emphasis on using environmentally-friendly materials and manufacturing processes. Please see our Corporate Responsibilities page for more information on what we are doing.
Do any health insurance companies cover your product?
We don't have any contracts with health insurance companies. SleepPhones® have not been evaluated by the FDA for treating insomnia. We do not claim to treat any diseases. However, if you have a health savings account or flexible spending account from your employers and your doctor prescribes SleepPhones®, the costs can be covered. Please find more information at: FSA Reimbursement